Race to the Museum: Glasspar Sports Car, 1953
The Smithsonian's National Museum of American History has a large collection of automobiles -- 73 -- in its collection. But with the mission of collecting and preserving the entire heritage of the United States inside of one building on the National Mall, the museum's curators don't have the room required to display all of these machines. A new project allows you to vote for the two items you want to see rolled out of storage and showcased. Even if you don't vote or live near the museum, this unique week-long series of eight iconic artifacts will provide you with a quick history of the American automobile.
This post was originally published on the National Museum of American History's "O Say Can You See?" blog. It is republished here with permission. It was written by Roger White, the museum's associate curator in the division of work and industry.
See more posts about the Smithsonian.
---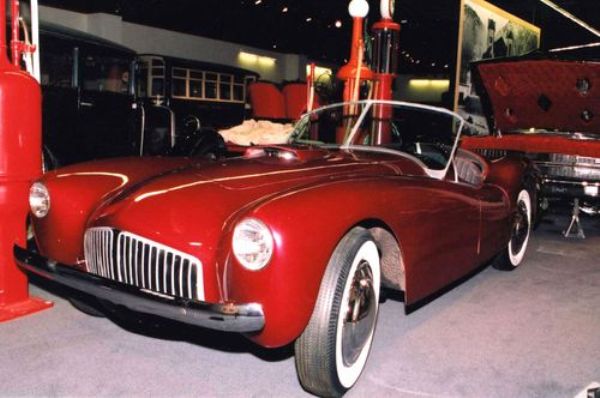 Race to the Museum: Glasspar Sports Car, 1953
Curves, fun, and low cost -- that was the appeal of a Glasspar sports car. Bill Tritt, a California boat builder, began producing American versions of European sports cars as an extension of his fiberglass boatbuilding business. Fiberglass-reinforced plastic (FRP) craft methods made it relatively easy for Tritt to enter the new car market, avoiding a huge investment in dies and presses. The result was spectacular: a sculpted, Jaguar-like creation that appealed to car enthusiasts because of its sporty looks and affordability.
Tritt's innovation introduced the concept of the personal car and proved that fiberglass -- tough, rustproof, and easy to repair -- made good car bodies. Tritt advised General Motors on the 1953 Corvette fiberglass-body sports car, an even bigger commercial success. Today a dedicated corps of enthusiasts document the histories and whereabouts of hundreds of Glasspar sports cars built in the early 1950s. One enthusiast, Dale Dutton, generously donated his Glasspar to the National Museum of American History in 1996. I attended a memorable luncheon with Dale and Bill in the museum soon after the car went on display. It's a rare experience to meet the person who originated any vehicle, especially one that started a revolution.
Roger White is Associate Curator in the Division of Work and Industry at the National Museum of American History.
More Race to the Museum posts: