Race to the Museum: EV1 Electric Car, 1997
The Smithsonian's National Museum of American History has a large collection of automobiles -- 73 -- in its collection. But with the mission of collecting and preserving the entire heritage of the United States inside of one building on the National Mall, the museum's curators don't have the room required to display all of these machines. A new project allows you to vote for the two items you want to see rolled out of storage and showcased. Even if you don't vote or live near the museum, this unique week-long series of eight iconic artifacts will provide you with a quick history of the American automobile.
This post was originally published on the National Museum of American History's "O Say Can You See?" blog. It is republished here with permission. It was written by Roger White, the museum's associate curator in the division of work and industry.
See more posts about the Smithsonian.
---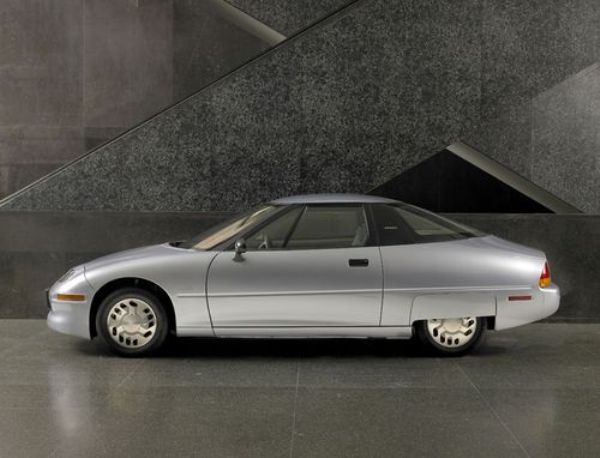 Race to the Museum: EV1 Electric Car, 1997
One of the most engaging round table discussions I've ever attended took place in 2005 when General Motors donated an EV1 plug-in electric car to the National Museum of American History. Key EV1 personnel recalled the ambitious design, manufacture, and leasing program, which lasted from 1996 to 2004. The challenge was to create a lightweight, aerodynamic, battery-powered car with extended range, one that could also run modern mechanical systems and comforts.
The decision to join the EV1 team was voluntary, and everyone was highly motivated. Team members at the Lansing Craft Centre, where 1,117 electric cars were made, formed strong social bonds and met after work for dinners and picnics. In 2005, some of them showered the museum with stories and tokens of their camaraderie, from EV1 caps, mugs, and name badges to bottles of Electrolite beer. Stories about EV1 lessees are no less fascinating. One driver recharged the batteries with a solar collector, while another used a stationary bicycle. Some drivers connected their Palm Pilots to EV1 power data systems. Although the EV1 never reached the market, battery propulsion technology is now available to consumers with this year's introduction of the Chevrolet Volt and Nissan Leaf.
Roger White is Associate Curator in the Division of Work and Industry at the National Museum of American History.
More Race to the Museum posts: