Race to the Museum: Balzer Automobile, 1894
The Smithsonian's National Museum of American History has a large collection of automobiles -- 73 -- in its collection. But with the mission of collecting and preserving the entire heritage of the United States inside of one building on the National Mall, the museum's curators don't have the room required to display all of these machines. A new project allows you to vote for the two items you want to see rolled out of storage and showcased. Even if you don't vote or live near the museum, this unique week-long series of eight iconic artifacts will provide you with a quick history of the American automobile.
This post was originally published on the National Museum of American History's "O Say Can You See?" blog. It is republished here with permission. It was written by Roger White, the museum's associate curator in the division of work and industry.
See more posts about the Smithsonian.
---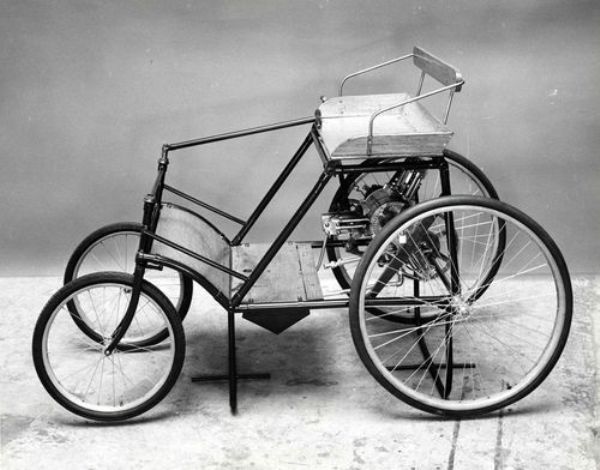 Race to the Museum: Balzer Automobile, 1884
Stephen Balzer traveled in the best circles, both socially and mechanically. Trained as a watch maker at Tiffany & Co., he became a machinist and inventor. He won a gold medal for a register that counted revolutions of mechanisms with a shaft and numbered, toothed wheels -- a forerunner of the odometer. In 1894, Balzer built a vehicle with a gasoline engine that rotated around a crankshaft. He drove the whirring quadricycle into the history books as the first American-made automobile in New York City.
In 1898, Smithsonian Secretary Samuel Langley hired Balzer to build a gasoline engine for the Aerodrome A, an experimental powered airplane. The following year, Balzer donated his experimental vehicle to the Smithsonian, where it earned another distinction as the first motor vehicle in the collection. Balzer's rotary airplane engine wasn't star-crossed, however; it was underpowered and had to be modified by Langley's assistant, Charles Manly. Despite the improvements, the Aerodrome A flew like a brick, and honors for the first powered flight went to the Wright brothers. Balzer built at least one other experimental automobile and briefly tried to manufacture cars. His 1894 vehicle remains a testimony to his skill -- and proof that you can go places simply by going around in circles.
Roger White is Associate Curator in the Division of Work and Industry at the National Museum of American History.
More Race to the Museum posts: