Pro-WikiLeaks Digital Activists Change Course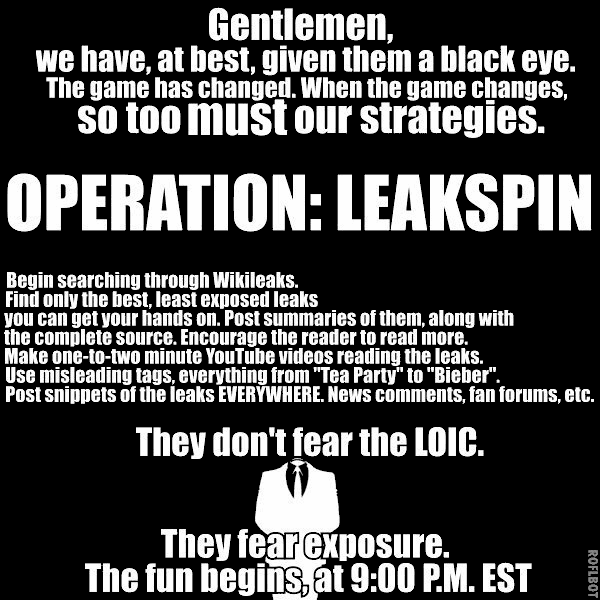 After several days of launching denial-of-service attacks on companies who eschewed doing business with WikiLeaks, the loosely affiliated group known as Anonymous have issued a new directive Thursday outlining a change in strategy. It looks like they'll be foregoing further attacks on the likes of Mastercard, Visa, and Paypal to focus on distributing the cables far and wide. Instead, they'll focus on distributing the cables by conventional and unconventional means.
They're calling it Operation Leakspin:
We believe that all the information provided by the leaked cables should be out and open for the public to read, discuss and most of all: understand.

We will use as much manpower as possible to publish information found in the cables to the public. We will speed up the process of uncovering, we will release facts that the media didn't speak about, and we will summarize the diplomatic leaks into chunks that everybody can understand.

The war against censorship should be fought not only by attacking businesses facilitating it. It should be fought by actively releasing all the information that can be released, to all the people it can be released to.

We are against censorship, and this is how we prove it, this is what Operation Leakspin is about.
Via BoingBoing.