Picture of the Day: Santa's Automobile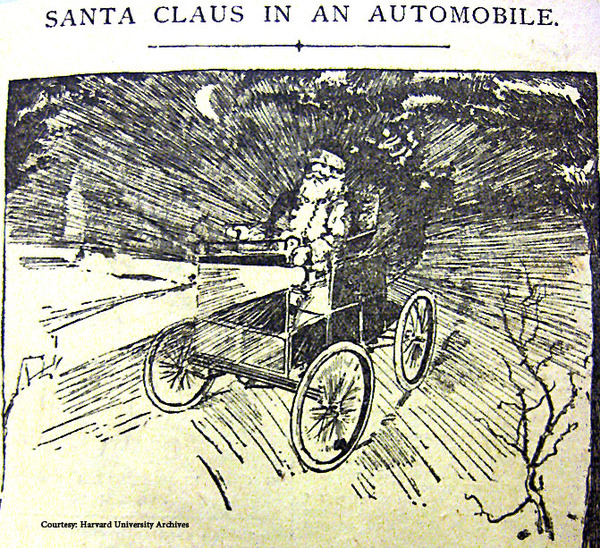 While Santa might generally ride in a flying sleigh, his other vehicle is a early 19th-century automobile, according to this wonderful illustration from the Harvard Archives. It was sent to us accompanied by the following jingle, which I imagine (but do not know for sure) went with the original.
When the streets of the city are whitened with snow
And windows coated with rime,
When the tree is awaiting its wonderful fruit,
And the bells are beginning to chime,
The children need listen no more in their beds
For the scampering runners of steel
And the reindeer of Santa Claus over the roof
For he comes in an automobile!
The poet no longer may sing of the bells
That glitter and jingle and shake,
The St. Nick of this year wears a rose in his coat
And sits with a hand on a brake.
Half tone and color page daintily drawn
In the holiday numbers reveal
A ruddy old gentleman booted and gloved
Who rides in an automobile!
This is a simply a fun paean to progress, but merchants also seized on the idea of Santa in a car to sell stuff. For example, I found the following helpful suggestion in Thomas A. Bird's 1906 book, Sales Plans: a collection of three hundred and thirty-three successful ways of getting business, including a great variety of practical plans that have been used by retail merchants to advertise and sell goods:
H/t: My new Atlantic colleague, Garance Franke-Ruta.