Pew: Some People Actually Pay for Online Content
According to a new survey, 65 percent of Internet users regularly pay an average of $10 per month to access online content
Almost two-thirds of Internet users have paid for online content in some form, according to a survey released by Pew this morning. Between October 28 and November 1, Pew asked 755 Internet users whether or not they had purchased any of 15 different types of online material. Sixty-five percent had. They found that most users spend about $10 per month, but the average for those who paid to download or access content was about $47 per month, with most users paying for subscription services over individual file downloads or access to streaming content.
The survey results, broken down:
33% of Internet users have paid for digital music online
33% have paid for software
21% have paid for apps for their cell phones or tablet computers
19% have paid for digital games
18% have paid for digital newspaper, magazine, or journal articles or reports
16% have paid for videos, movies, or TV shows
15% have paid for ringtones
12% have paid for digital photos
11% have paid for members-only premium content from a website that has other free material on it
10% have paid for e-books
7% have paid for podcasts
5% have paid for tools or materials to use in video or computer games
5% have paid for "cheats or codes" to help them in video games
5% have paid to access particular websites such as online dating sites or services
2% have paid for adult content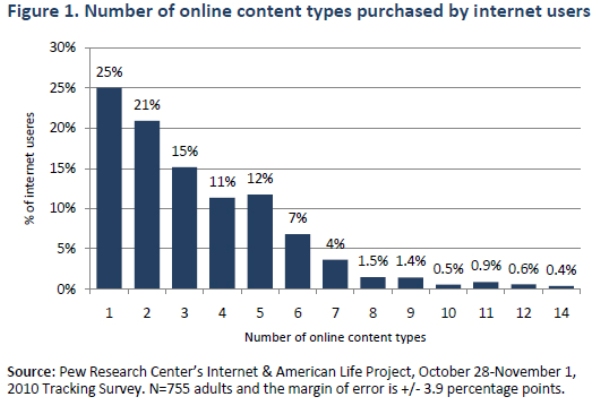 Download the full report here (PDF).