Old, Weird Tech: Vacuum Cap Edition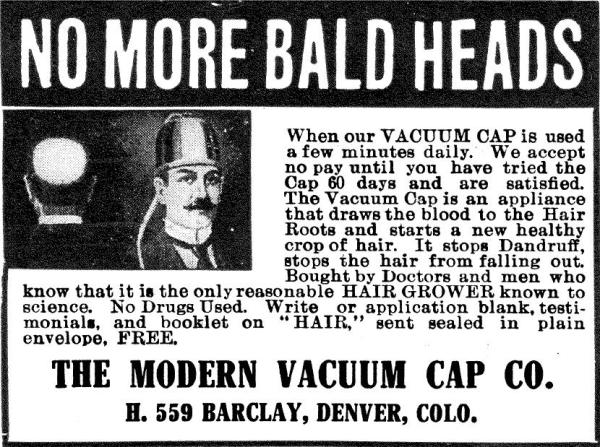 In the early 20th century, men didn't have a whole lot of options if they started to shed hair. There were some lotions and blood supplements, but they didn't really work. Capitalizing on the demand, Claude O. Rosell invented the "Capillary Chalice," a small cap that was inspired by the ancient Chinese practice of cupping, in which small bamboo cups were boiled and then placed over infected areas for healing.

The chalice, Rosell said, would stimulate the circulation of blood to the scalp and help to loosen it from the skull, giving hair follicles more room to grow. "When the scalp has thus been loosened, it ceases to impede the normal circulation of the blood among the roots of the hair." the
patent read
, "and as a consequence there is a proliferation of cells and a new formation of blood vessels."
The success of Rosell's invention led to the development of new models. The one seen in these advertisements that ran in Popular Mechanics in 1914 includes a long tube that could be attached to a vacuum pump. In the absence of a pump, the user could stick the tube in his mouth and suck to apply pressure. You'll see that the later designs cover nearly the entire head -- they're much larger than Rosell's small cap. This, combined with a layer of cold cream, beeswax or petroleum jelly rubbed along the edges, created a tighter seal.
Explore the complete Old, Weird Tech archive.
Images: Advertisements from Popular Mechanics, 1914.