Old, Weird Tech: Christmas Robot Baby Edition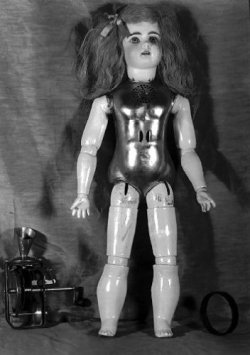 In April of 1890, an editor from
Scientific American
traveled to Thomas Edison's West Orange factory to see a man about a doll. More than ten years after the invention of the phonograph, Edison had been developing a smaller version of the machine, something that might be used in a clock to tell the time.
But what Scientific American saw was an entire building dedicated to the manufacture of dolls -- hundreds of dolls a day, hundreds of thousands a year. Edison had developed a tiny phonograph that would fit into the body of a doll, which would be hidden once it was dressed. Meant for children, the doll would recite "Mary Had a Little Lamb," or "Little Jack Horner," but it was also expected to sell over the holiday, as you can hear in a recording of one if its tinny death rattles: "Merry Christmas!"
Stationed throughout the factory, young women would shout nursery rhymes into a recorder, while huge machines stamped out the tin sections of the resonating torso. The doll was meant to be hand-cranked, just like a phonograph, and had a large handle sticking out of its side. It cost $10 in 1890 -- more than $200 in today's money -- an adult sum for a child's toy. The toy weighed four pounds, too heavy for a small child, because its torso was metal -- the head was porcelain, the arms and legs wood, but the chest looked a jet engine and there was a speaker where the heart should be. Edison's doll was about as cuddly as a carburetor.
The doll was meant to be a competitor for the elite European doll market, Edison even had reports sent back from Paris about what was in fashion ("Dark-haired dolls are unpopular"). But in the Christmas rush, the phonograph inside the doll began to break down -- the needle kept slipping -- and repairs became too tedious. Edison had to shut down the factory in the new year -- it turned out that the huge armor-plated doll was as delicate as a tea cup
For more on Edison's experiments with androids, as well as the history of robots from Descartes to Deep Blue, be sure to look at Gaby Wood's phenomenal book Edison's Eve: A Magical History of the Quest for Mechanical Life. H/t Morbid Anatomy.
Thumbnail image credit: Jen J. Walker from Philadelphia.