George Lucas' Possible Inspiration for Darth Vader and C-3PO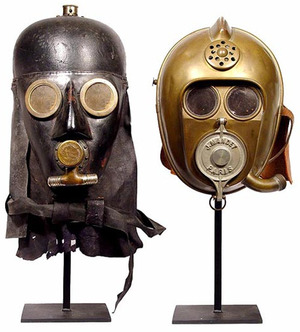 Steve Erenberg likes to collect strange things. Artists' mannequins, early radio equipment, steam engines, electrostatic devices, globes, "scary scientific stuff," classroom demonstration models and more. About thirty years ago, Erenberg, who runs the Industrial Anatomy blog and Radio-Guy, a CollectorsWeekly.com Hall of Fame website, started to collect masks with his wife: Tribal masks, medical masks, scientific masks. Deep in his collection are a pair of masks that Erenberg convincingly argues are the inspiration for two of George Lucas' famous creations from the Star Wars films: C-3PO, a protocol droid designed to serve humans, and Darth Vader, one of the most well-known villains in popular culture.
Writing this week as a special guest blogger on CollectorsWeekly.com, "a resource for people who love antique and vintage stuff," Erenberg introduced his masks. "This pair of early rescue masks, shown above, dates from between the mid-1800s and World War I," he explained. "They look a bit familiar, right? Almost a 100 years [sic] before Darth Vader and C-3PO hit the big screen in Star Wars in 1977, these two smoke helmets were worn by firefighters carrying our [sic] rescues in smoke-logged buildings."
Founded in 1881, one early company held several patents in the United States for respiratory equipment to be used by firemen. A compressed air cylinder attached to the back of a mask supplied breathable air to the fireman who was buried inside a large cloth-like contraption that resembled a kid dressing as a ghost for Halloween. Those early devices paved the way for the companies that would follow.

Profiled by Neatorama, medGadget, Make magazine and others, Erenberg knows his stuff. The mask on the left of the photograph was made in Hamburg, Germany, by a company called G. B. Konic Altona, he explained in the blog post. Labeled "Respirations Apparat," the black leather helmet, Erenberg noted, resembles an African Dan mask. Found in a small section of land stretching from Liberia into the Ivory Coast, Dan masks are typically carved of wood, but do share a lot of design basics with the gas mask seen above: broad forehead, tapered chin and a pouting mouth.

The three-quarters face mask on the right is made of brass. Constructed by J. Mandet in Paris, this type of mask required an operator to pump air into the helmet through flexible tubing and a bellows. Both masks have mica lenses, which would protect the person wearing them from heat. The masks from that early company weren't outfitted with mica as the silicate metal was rare and expensive until large reserves were discovered in South America and Africa.
"The buzz among collectors is that George Lucas's designers must have found inspiration in these smoke helmets and other [sic] like them," Erenberg wrote. "In fact, one well-known 19th-century manufacturer" -- that early company -- "was named Vajen-Bader." From there, Vader isn't a big stretch.

Image: Steve Erenberg, CollectorsWeekly.com.