Data Analyst Hans Rosling: People Vote for Washing Machines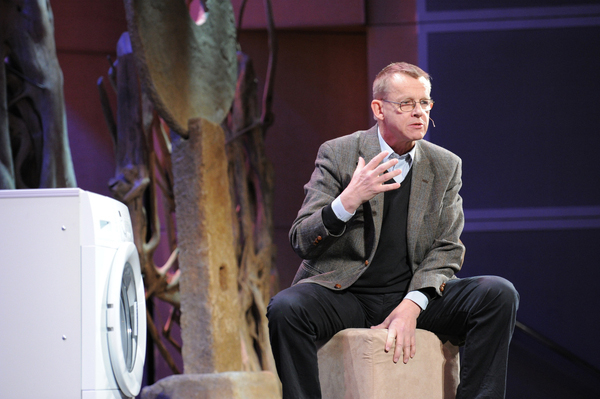 WASHINGTON, D.C. -- "To my grandmother, the washing machine was a miracle," said data analyst Hans Rosling is opening his short talk at the TEDWomen conference. Rosling, professor of International Health at Sweden's Karolinska Institute, told a story of how he was four years old on the day that his mother first loaded a washing machine as an entry point into a larger discussion of economic development. His parents had saved for years to purchase that machine, Rosling said. That day, like a holiday or birthday, was so important that even grandma was invited over to watch -- and she insisted on pushing the button to get the machine going.
Known as a TED rock star because his past presentations have been watched so many millions of times that he holds a record for the conference, Rosling did not disappoint.
His slides kicked into action as Rosling laid out the facts: Two billion of the world's seven billion people live on less than $2 a day, below the poverty line, Rosling said. And only one billion live about the "Air line," the term Rosling uses for those who spend more than $80 a day and whose lives are filled with gadgets, including airplanes. But how many live above the "Wash line?" Rosling asked. How many of the world's seven billion have access to a washing machine? Only two billion. These people live on $40 a day or more. Everyone else -- about five billion people around the world -- still washes their clothes by hand.

Of course, women are often the ones who are doing the washing of clothes. And they spend hours every week performing this grueling task that we often take for granted. Hours that could be better spent elsewhere.
Rosling, who tours the world giving lectures and presenting his data, said that he was speaking before a group of "hard-core environmentalists" who argued that giving the poor access to appliances would only drain the finite fossil fuels we have. True, and Rosling showed that moving most of the population above the "Wash line" over the next few decades would more than double our use of fossil fuels at current rates. Some in the group, he said, didn't drive cars on principle. But nobody there, when Rosling asked, raised a hand to indicate that they washed their clothes by hand. "Even the most hard-core of environmentalists use washing machines," Rosling said.
And people who don't use them want to. So much so that they'll vote for washing machines, Rosling said. On January 1, 2011, Dilma Rousseff will become President of Brazil. Rosling suggested that her victory was due, in large part, to the successes she had as Minister of Energy. The washing machine allows women to use their energy and time elsewhere. Rosling's mother, once grandma hit that button and started the spin cycle, took her son to the library. There, he learned to love statistics.

Image: Hans Rosling speaks during Session 1: Overture, Tuesday, Dec. 7, 2010, at TEDWomen, Washington, D.C. Photo: James Duncan Davidson/TED.

More from the TEDWomen conference: