Chart: 2010's Best Performing Tech Companies
Which tech stocks turned out to be big winners this year? The answer might surprise you.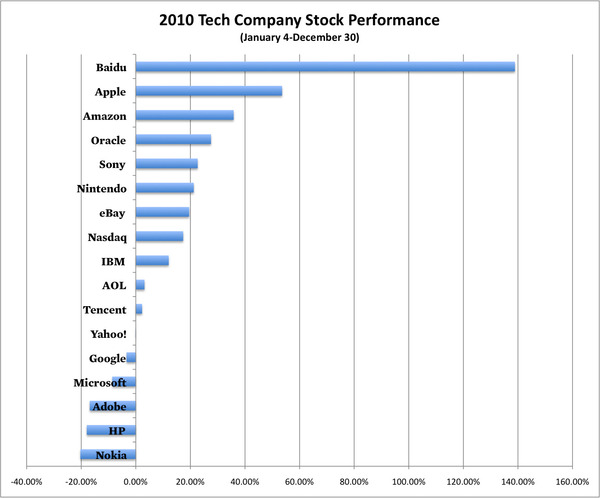 2010 wasn't a great year for the economy, which puttered along like a zombie from the Walking Dead. But some companies delivered some notably strong performances, and the technology-heavy NASDAQ stock exchange was up more than 16% over the course of the year. Here we take a look at a basket of of the biggest technology companies in the world.
The biggest surprise to me? Yahoo's shares outperformed Google's on the year. That's wild. The other (mildly) unexpected fact: the highest-flying stock we looked at wasn't Apple, but the Chinese company Baidu, which more than doubled Apple's share price growth.
That said, we can't sell Apple short (hah). They managed to launch a great new product (the iPad), keep momentum with the iPhone, and delivered massive growth for a company that's already one of the most valuable in the world.
On the losing side, Nokia, HP, and Adobe had the toughest years, each dropping more than 15 percent on the year.