Celebrity Invention: Donatella Versace's Asymmetric Pen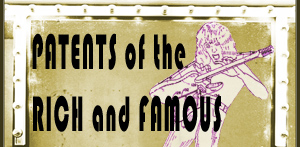 Some celebrities aren't just pretty faces. A few of them are also touched with that Yankee prowess for tinkering and invention. In this weekly series, we introduce you to the Patents of the Rich and Famous. And maybe you learn a little bit about how patent literature works along the way.
Inventor: Donatella Versace
Known For: When you hear Versace, you probably think high fashion. Or at the very least that revealing green number that Jennifer Lopez wore to the 2000 Grammy Awards. Donatella is the woman behind the clothes. She's the chief designer of the fashion line and vice president of the company.
She also looks and talks like this:
When she's not designing dresses or crafting her personal style, she's creating other innovative products.
Invented Apparatus: "Asymmetric pen"
What makes this pen special? It's Versace.
Rationale Behind Invention: The patent on file for this pen (awarded in April of 2002) includes lots of images, but tells us very little about it or how it came into being. Under the section "Claim," where the inventor often goes into considerable detail, Versace simply wrote: "I claim the ornamental design for the asymmetric pen, as shown and described."
Off-Label Uses: Versace pens aren't for writing. Fashionistas are probably co-opting the pen for some other chic uses. Drink stirrer, anyone?
Future Directions: If we're going to pay top dollar for a pen -- and inevitably a Versace designed pen costs more than a Bic -- we want it to do much more than write (and look cool). Make it work like this Livescribe Pulse pen, which records and translates audio into text, but look as stylin' as a Versace garment.
Peruse more celebrity inventions.