Beginner's Guide: What to Do With Your New Smartphone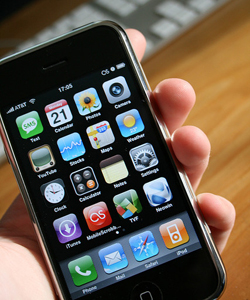 Say hello to the new you. The new you doesn't ask for directions or wonder which restaurant in your city serves the best Pad Thai. The new you never has a "what was that movie title again?" moment, because the new you has constant access to Google. The new you shoots and edits video of that a cappella group performing on the subway, sends emails to the office, checks out Saturday's forecast and listens to the new Ben Folds song -- all on the way to work.
So you got a smartphone this holiday season. You have arrived. But what are your first steps as a new citizen in the land of touch screens and voice control?

IPHONE

Get a case. Though it is powerful, your iPhone screen isn't made to withstand much wear and tear. If you drop it, the screen will crack. And it will look like a spider web.
There's an app for that. Check out the App Store icon on your home screen. You can navigate through hundreds of thousands of apps by checking out Featured items and Top Sellers, and by searching for specifics. We recommend downloading some of the iPhone favorites, which include Twitter, Pandora, ESPN Score Center, All Recipes, Shazam (which will help you identify a song from the radio), and eBuddy, which streamlines various chat services (AIM, GChat, Facebook Chat, etc.).
Can you see me now? FaceTime. It's one of the coolest additions to the iPhone technology, and it's very easy to use. Go to Settings, click on the Phone menu and enable FaceTime. Then choose a contact, scroll down, and choose FaceTime. Just make sure the contact also has an iPhone 4 before you call or you're not going to get anywhere.

Get personal. This means changing the wallpaper (found by going to Settings and choosing Wallpaper) and deleting some of the home screen clutter. To move or delete an icon, press it and hold. The icons will start moving, and little X's will appear next to them. Tap and drag apps to move them, or create new folders for them.
Typing. It takes a little practice, but we promise you'll get the hang of it. A few tips: if you tap and hold a specific vowel, C, N, $, ?, ! or the quotation marks, a list of foreign language versions will pop up. Shake to activate the Undo button. If you're typing a URL, tap and hold the ".com" for a list of other extensions.
ANDROID
Voicemail revolution. Dialing your number to listen to voicemail is so 2009. Set up Google Voice as your voicemail provider, and activate the Voice app on your phone. Google will then transcribe and archive your voicemail as if it were email.
Swype. Swype seeks to revolutionize typing on touch-screen phones. The effects are pretty weird. After you download the program, simply drag -- or swipe --  your finger across the keyboard to spell words. It takes just a little bit of practice, but then it somehow knows what word you want to use. It feels so magical that it seems like a modern-day version of the Ouiji board.
Innovate. Have you been searching the Android Market for hours, unable to find the perfect app for some obscure hobby or idea? You're in luck: With Google App Inventor, you can create your own app, and learn what it takes to compete in the Android Market.
Rock out. The music application that comes with Android isn't the best, so download a new one from the App store. Look for TuneWiki or Spinlet.
Become completely reliant on your phone. Well, not really, but downloading Tasker can definitely help life go more smoothly. You can set your phone to go on silent when you walk into a movie theater, or even make it turn off when it's face down. If you're busy, you can schedule a text -- "can't talk right now" -- to go out to anyone who calls you. Tasker will decrease audio volume when a headset is unplugged, and play specific music for your morning alarm.
BLACKBERRY
Just BBM me. Most BlackBerry users will tell you that BlackBerry Messenger, or BBM, is perhaps the most addictive part of owning a 'Berry.  Send other users your PIN number (type "mypin" as one word followed by a space into a text message) so they can save you as a contact, or add the contact yourself by selecting Add a Contact from the drop-down menu and inputting their PIN. The best part? You can chat anywhere in the world, for free, with any friend who also has a BlackBerry. At last, you can constantly ping your friends who are studying in Abu Dhabi, or backpacking through the Swiss Alps. And if your friends aren't BlackBerry owners, they can download WhatsApp, a free messaging service that works across most smartphone platforms -- Android, BlackBerry, iPhone, and Nokia.
Find your way home. Download Google Maps. It's considered to be significantly better than the pre-loaded BlackBerry Maps application, which is fairly slow and, in some versions, less detailed. While you're at it, download Gmail, too. The built-in BlackBerry email service works just fine, but heavy Gmail users will appreciate having their traditional interface.
Take the edge off your new addiction. Part of the reason 'Berry users feel the need to check their phone all the time is because the message indicator, a red blinking light, is constant no matter who is sending an email or text. But what if you could customize the color for particular contacts? BerryBuzz is an app that creates custom notifications for BBM, Facebook, Twitter, and regular text and email. So you'll know if the message can wait or if it's a must-answer from your boss.
Customize your 'Berry. Go to your phone's accessibility options where you can change the Grid Layout (get bigger icons), Event Sounds (alerts you when there's a low/full battery or when a USB is connected or disconnected), and Color Contrast (change to Reverse Contrast or Greyscale).
iTunes. Just because you don't have an iPhone doesn't mean you can't sync up to your music library. BlackBerry Desktop Manager will allow you to sync the songs and playlists of your choice.