Apple Blocked the WikiLeaks App, but Truthseeker Is Still Available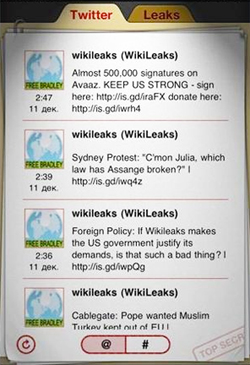 After just three days on the iTunes App Store, the WikiLeaks app was downloaded 2,860 times. At $1.99 each, that's $5,691.40 in sales, more than half of which was donated to "organizations that work to promote the future of online democracy," according to the app's description. (The page has been completely removed, but you can still view the
Google cache
.) And then Apple stepped in and removed it.
Why? Nobody is really sure. Apple is famous for thoroughly considering all applications before approving them for the App Store. The WikiLeaks app must have passed the test. Company representatives didn't respond to a request for comment from TechCrunch's Alexis Tsotsis. But Apple isn't the first company to cave on pressure against WikiLeaks and those that support them in any way: MasterCard, Visa and PayPal have all cut ties to the organization -- and Internet hackers responded with attacks.
"The Wikileaks app gives instant access to the world's most documented leakage of top secret memos and other confidential government documents," the app's description page read. "The Wikileaks app reflects old and recent cable updates, WikiLeaks Tweets and the WikiLeaks Website completely formatted for iPhone and iPad." (There's a screenshot from the application at the top of this post.)
For those let down by the app's removal, there are other options. The WikiLeaks application, built by Russian developer Igor Barinov, is still available for download on Android phones. (There are at least a half dozen WikiLeaks-related apps for Android users -- apparently a more transparency-friendly bunch.) And, while it lasts, Truthseeker is a free iPhone application that aggregates news, podcasts and more from alternative sources. One of those sources just happens to be WikiLeaks. "Truthseeker has no political agenda," according to the app's description. "Truthseeker just gives you access to the news behind the news and let's you make up your own mind."