A Look at Facebook's New Profile Pages
Another day, another Facebook redesign. The social network that everyone loves to hate (but everyone, it seems, uses. Hi mom!) has just started to roll out a new look for its profile pages. If you want to switch over, you have to visit the page of someone who has the new look and click on a link from their page. Be warned, though: Once you switch over, it seems impossible to switch back. We've seen this with previous Facebook changes. I'm sure they've tested this: perhaps it's the best way to make people feel as though they still have some control over the page.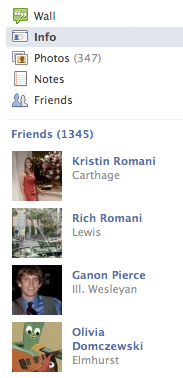 So, what's different? The profile page now opens with a quick summary of who you are as defined by what you do, where you live, when you were born and what languages you speak. Beneath this stream of information, which reads a lot like a ticker at the bottom of a television news broadcast, you'll find some of the photographs you were tagged in. "Recently tagged photos show friends what you've been up to," Facebook notes in a tour of the new page that is only available once you switch over. "Your privacy settings have not changed. Only people you've allowed to view photos you're tagged in will see these photos."
Instead of just listing your education and work, you're encouraged to share experiences and the new profile page gives you the option of tying these experiences to some of the friends in your network. But this page, at least for me, is harder to find at first. Gone are the tabs of the old Facebook. They've been replaced by links on the left-hand sidebar, underneath your main profile picture. This bar, which can be seen in a screenshot at right, remains in place no matter where you navigate within a profile. This is a nice feature once you get the hang of it. Whether you're viewing photo albums or scanning through these new experiences, it's easy to switch from one page to the next. (You'll also notice that the way friends are displayed has been updated to include larger pictures in a single column. A special family-only section follows this.)
My favorite change is a host of new fields to display information. In addition to your favorite television shows and movies, you can now list sports that you play, your favorite teams and athletes, and even people who inspire you
Overall, I like the new look. It's clean and streamlined. The only problem is that I'm rarely tagged in any new photos, so the parts of my profile that are given the most play on the page will be static, rarely ever updated. On the bright side, some of the new fields I discussed are found under the "Relationships" section; they allow you to not only call-out siblings and parents, but also grandparents and grandchildren. Yes, they're on Facebook too.