A Holiday Photoshop Contest: How Would You Dress an Atlantic Reader?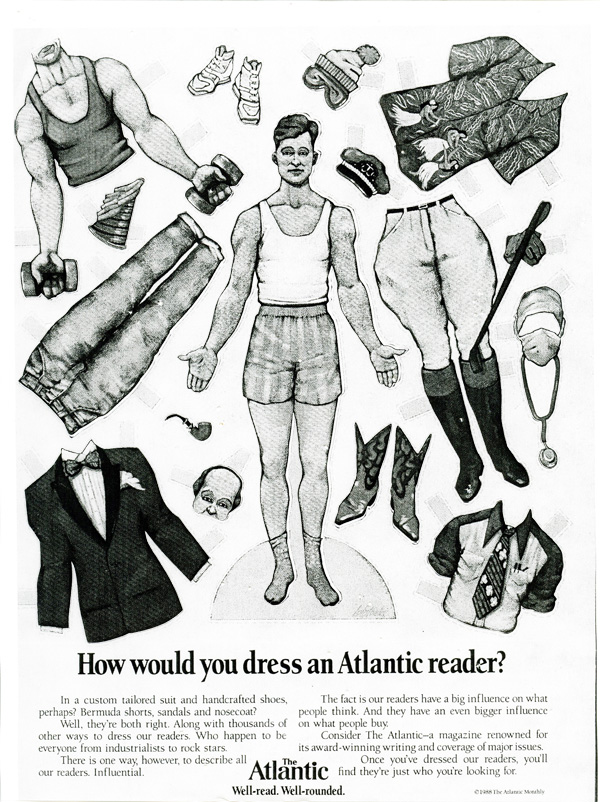 Well, dear readers, it's Christmas, so I have a present for you from deep in the archives of the Atlantic. Back in 1988, we ran the advertisement you see above, which consists of a hunky man dressed in his skivvies. You see, he's waiting for you to dress him! You can do him up in a tuxedo or cowboy boots, riding pants or a Hawaiian shirt. Or all of the above. It all went along with the magazine's tag line back then: "Well-read. Well-rounded."
The text that ran with the ad asked, "How would you dress an Atlantic reader?" And provided the following answers:
In a custom tailored suit and handcrafted shoes, perhaps? Bermuda shorts, sandals, and nosecoat? Well, they're both right. Along with thousands of other ways to dress our readers. Who happen to be everyone from industrialists to rock stars.

There is one way, however, to describe all our readers. Influential.
Which is true, of course. Just the other day, Jay Z was telling me that the Atlantic was his favorite print magazine. (Ok, that's a lie, but you never know.)
In any case, I don't think they meant the paper doll to be taken literally, but this being the Photoshop Age and me being obsessed with our history, I couldn't help turning the ad into a real digital paper doll. I took a few minutes and cut out each of the clothing items and dropped them into different layers in a Photoshop file.
Now, I'm not sure anyone actually wants to do this, but one the off-chance that you do, I've posted the Photoshop file here. I'll gift a free subscription to the magazine for the best/funniest/most interesting interpretation of the ad. Feel free to go wild. (Tom Selleck waterfall wild.)
To get you thinking, one of our own designers, the talented Katie Mathy Maciocha, created the hipster Atlantic reader you see below.
Send your entries to amadrigal[at]theatlantic.com or post a link to your image in the comments. You've got until the end of the decade.
Happy Holidays. Thanks for reading.