Will We Have High-Speed Internet in Every Classroom by 2015?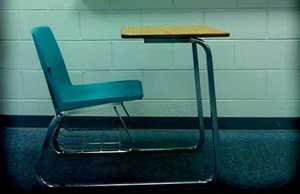 WASHINGTON -- "Almost if not every school in this country will have broadband" by 2015, said
Jim Shelton
, Deputy Assistant Secretary for Innovation and Improvement at the U.S. Department of Education, at Slate's
"Design a Better Classroom"
event last night, where he sat on a panel with several distinguished education experts. "The contracts are signed, the money is spent."
Shelton mentioned that bit of old news, first unveiled back in March as part of the Federal Communications Commission's (FCC) National Broadband Plan, as a way to frame break-out sessions designed to encourage participants to share their ideas for redesigning the American classroom. "As we move forward, you have to imagine a different infrastructure," he said. But judging by the reaction in the room, which was filled with more than 100 educators, students and policymakers -- the sort of people you would expect to know this stuff -- and my conversations with attendees during and after the event, the original announcement went largely unnoticed -- or was dismissed as just another pipe dream.
Part of Slate's Hive series, the "Design a Better Classroom" event operated under the assumption that a large, smart and engaged readership knows more than the handful of editors and writers it takes to produce a website, however well regarded that site might be. Some of the ideas proposed were interesting and innovative -- project centers in every classroom, human-centered school design, international videoconferencing -- but most focused around innovation that wouldn't be possible without the National Broadband Plan's goal of bringing 1 Gbit/s Internet service into every library, school and hospital by 2020. (Shelton's five-year projection could prove impossibly ambitious.)
Required by the American Recovery and Reinvestment Act, the FCC began work on the Plan back in April 2009 with a series of workshops and public hearings. Thousands of suggestions were made and then boiled down into the Plan as it was presented to Congress. In addition to making 1 Gbit/s broadband available to schools, the Plan calls for connecting all emergency service workers to high-speed service and affordable 100 Mbit/s service for all residences in the country.
But will all of this actually happen as Shelton suggested? Last week, CNET caught up with Blair Levin, the former executive director of the National Broadband Plan who was responsible for creating the final document. Now a fellow at the Aspen Institute, Levin sees the Plan not as a mandate, but as more of a blueprint, a guide.