What Sales to Expect From Apple on Black Friday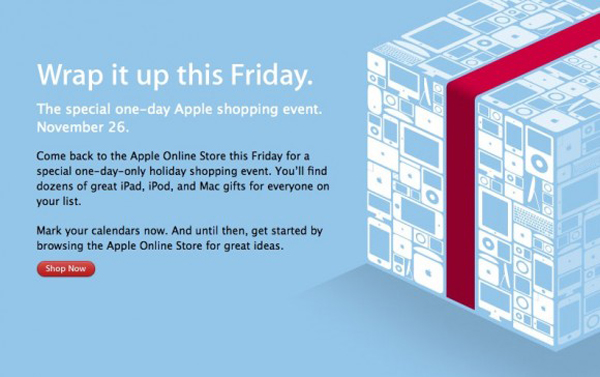 If you're planning on using Black Friday, the day after Thanksgiving and the biggest shopping day of the year, to get a head-start on your holiday shopping, Apple.com will probably be one of your stops. Who on your shopping list doesn't want one of Apple's gadgets? Since 2004, the company has been hosting 24-hour sales in both its online store and its brick-and-mortar locations starting at midnight. And this year won't be any different.
Apple's ad announcing the sale -- "Wrap it up this Friday" -- was rolled out on Tuesday morning. Featured prominently on Apple.com and picked up by dozens of outlets that track the company's every move, it reads: "The special one-say Apple shopping event. November 26. Come back to the Apple Online Store the day after Thanksgiving for a special one-day-only holiday shopping event. You'll find dozens of great iPad, iPod, and Mac gifts for everyone on your list. Mark your calendars now. And until then, get started by browsing the Apple Online Store for great ideas."
What kind of great deals can we expect from Apple this year? Nothing has leaked -- yet. But sales offered on Black Fridays past have been pretty consistent and offer some insight as to what Apple is planning for 2010.
In 2004, the first year that Apple offered sales for Black Friday -- because the company's products sell so well, sales and discounts are rare -- customers could enjoy $100 discounts on most iMac G5 configurations, $20 off digital cameras, a .Mac membership for $68 and Airport Express for $98. In addition, Apple discounted all iPod models and many accessories for the portable music player.
In 2006, Apple was offering all MacBook and iMac models for $101 off. The Cupertino, Calif.-based company also reduced the price of all fifth-generation video iPods by $31 and knocked $21 off all second-generation iPod nanos. In addition, Apple discounted a bunch of Mac accessories, including the Airport Express Base Station and the wireless Mighty Mouse. IPod accessories were also on sale: $5 off the Nike+iPod Sport Kit, $21.95 off Kensington's Digital FM Transmitter/Auto Charger and more.
In 2008, Apple again offered a $101 discount on the aluminum MacBook. (Older models were priced at $51 below their standard cost.) The following year, the biggest discount remained the same: $101 off all MacBook Pro models as well as all iMacs.
This year, we're anticipating that Apple will follow tradition and discount all MacBook and MacBook Pro models by about $100. There are rumors that they might also discount the iPad for a single day, which would be a generous move given the product's popularity (and Oprah's endorsement). (There are several reports out that Apple stepped up production of the iPad ahead of the holiday season.) The recently updated iPod Nano could also be discounted. Dozens of smaller products will be on sale in both the online store and retail locations, ranging from notebook cases to software to speakers and audio devices. The general rule seems to be that you can expect Apple to drop prices somewhere between 10 and 20 percent of an item's current price, with a maximum discount of $101.