Tour the White House From Your Living Room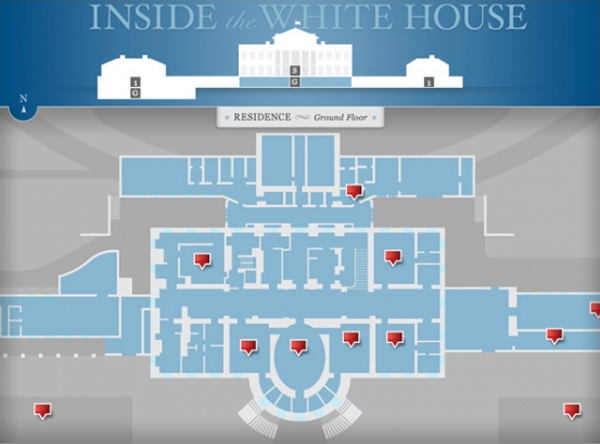 In an effort to open the White House up to more visitors, especially those that are unable to make it all the way out to Washington, the president's new media team unveiled an online interactive tour this afternoon. "President Obama and First Lady Michelle Obama are committed to opening the doors of the White House and truly making it the People's House," according to the tour's introductory page. With restricted hours and scheduling hassles it's still difficult to enter the physical doors of one of DC's most iconic buildings, but now the virtual doors are wide open.
Visitors to the site can move around a map that shows the floorplan of various sections of the White House -- the Residence, East Wing and West Wing -- as well as the South Lawn, where the basketball court, kitchen garden and beehive are located. Selecting the icons triggers pop-up windows with images, short video clips and text.
"With some incredible behind-the-scenes photos from the Photo Office and our best 'Inside the White House' videos, you're invited to do everything from cook with the New Orleans Saints in the White House kitchen, to peek inside the Situation Room, to watch the Jonas Brothers perform in the East Room and tour the first ever beehive on White House grounds with beekeeper Charlie Brandt -- plus a lot more," deputy new media director Kori Schulman wrote on the White House blog. "What are you waiting for? Welcome to the White House."