Portraying Women in Science and Technology
One of the biggest news stories in the tech world today is that Mary Meeker has joined Kleiner Perkins Caufield & Byers, a venture capitalist group that has backed everyone from Google to Zynga to Amazon. "Meeker analyzes technology trends and gives research-dense, high energy presentations at conferences like O'Reilly and TechWeb's Web 2.0 Summit," wrote Marshall Kirkpatrick at ReadWriteWeb after the news was announced. "How prominent is Meeker? Sarah Lacy, who has covered the Silicon Valley VC market for years, puts it this way at TechCrunch this morning: 'As an analyst, Mary Meeker was as famous in the dot com glory days as [Kleiner's John] Doerr was as a VC, so it's appropriate and seemingly a long time coming that the two would wind up as partners.'"
Meeker is a big deal. And her work at Kleiner Perkins will inevitable have a huge impact on which start-ups get the backing they need to develop some traction in a crowded market.
As this powerful woman dominates the news today, I thought it would be interesting to repost this old article from one of the Smithsonian's blogs that asks what role the media plays today in portraying women in science and technology.
This post was originally published on the National Museum of American History's "O Say Can You See?" blog. It is republished here with permission. It was written by Arthur Molella, the Jerome and Dorothy Lemelson Director at the National Museum of American History's Lemelson Center for the Study of Invention and Innovation.
See more posts about the Smithsonian.
---
Portraying Women in Science and Technology
Were we to judge by images alone, invention has been a man's world, and only a man's world. The title of one of the iconic paintings of 19th-century invention, Men of Progress by Christian Schussele, says it all. I'm sure no one then was even thinking about "Women of Progress."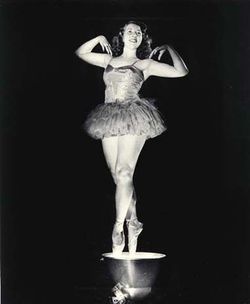 Has that changed? One resource for understanding popular perceptions of scientists, engineers, and inventors in 20th-century America is the Smithsonian's Science Service Historical Image Collection. America's first science news agency, Science Service produced and distributed photographs for newspapers, magazines, and other media.
While women appear in numerous Science Service photos, how they are portrayed is an interesting question. Many photographs show women assembling or testing technological devices, for example. While there are literally hundreds of photographs of white-coated male researchers making or using scientific instruments, there are almost none of women doing comparable things. Rather, women are invariably passive or admiring observers. In other words, females are shown dominated by rather than in charge of technology.
Science Service images were typical of those presented by other contemporary media, save for the occasional movie about Madame Curie. None of this means, of course, that women did not play active roles in science and technology over the last two centuries. On the contrary, at the Lemelson Center we have uncovered ample evidence of significant female contributions. But, given the skewed nature of the visual record, we have had to work very hard to find this evidence. While image isn't everything, it counts for a lot in today's visual culture.
My feeling is that the media today are doing a much better job of bringing women into the frame, but also that these representations are still nowhere close to reflecting actual numbers. Women's History Month is a good occasion for us to bring women in science and technology into focus.
Arthur Molella is Jerome and Dorothy Lemelson Director of the National Museum of American History's Lemelson Center for the Study of Invention and Innovation.
Image: Electric Light, about 1946. Shirley Yager, Schenectady balleteuse. Copyright General Electric.