Picture of the Day: Doctored Birth on Google Street View
In a strange hoax, someone has replaced a blurred-out home with a woman giving birth on a sidewalk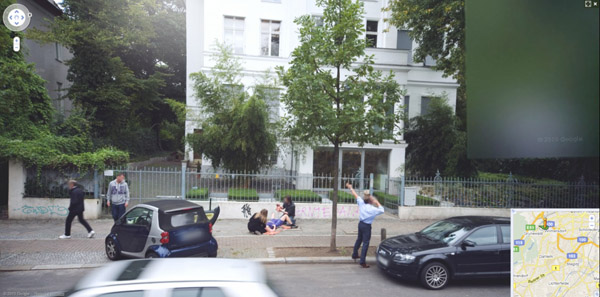 This morning, this image of a woman giving birth on a sidewalk in the German suburb of Wilmersdorf is making the rounds. Supposedly taken from Google Street View, the birth is taking place in the middle of the frame where you can see a woman on her back with another person, on knees, holding a just-birthed baby. But the image is a fake. From Google's German Twitter account:
Bei der angeblichen Geburt auf Street View, die hier gerade die Runde macht, handelt es sich um ein Fake!
You can guess what that translates to.
Below is the actual image you'll see if you visit that same spot using the Google tool. Clearly, there is nobody in the frame. What you find, though, is a blurred-out home (No. 37 Hubertusallee, Berlin). The home's owner is only one of nearly a quarter million in Germany who opted out of appearing on the search giant's Street View before it went live this month.