Path: New Social Network Is Actually Fun Alone
Path is a wonderful photo journaling tool that seems made for tracking your own life rather than sharing it with others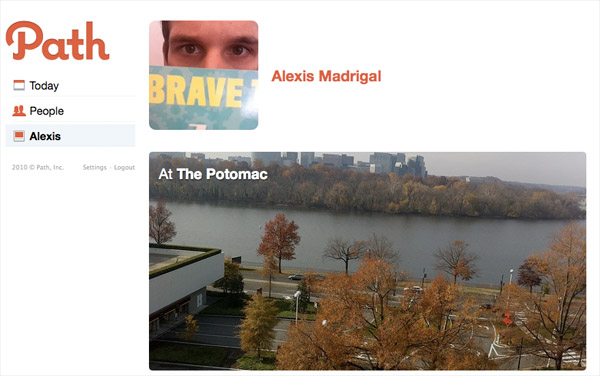 A new social network called Path launched last week to the kind of media ballyhoo only an experienced team of startup guys could rally. The news got around to all kinds of outlets, big and small.
Path limits your total number of friends to 50. There are no applications. Instead, you take photos, tag them with your location, and upload them. As you do so, you create a "Path" through life that you can share with your inner circle.
I like the way AllThingsD's Liz Gannes headlined her post on the venture, "Path: The Social App That's Not Viral (By Design)." There's something appealing about a social network that's not just relentlessly trying to reproduce itself. It feels kind of classy (or something). And Path's user interface is unerringly slick. I really like how simple and clean everything is.
So, I decided to add ten friends who are friends in real life. I snapped a couple of photos and uploaded them. That is to say, I tried to use the app the way it was designed. Then I waited. A couple of days have now gone by and no one I know has begun to share updates with me. Maybe it's just social network fatigue, but none of them appear to actually be using the service. I am walking a lonely path.
Usually, these sites hold your hand a little as you figure out what you're supposed to do. But Path's not like that, either.
All that said, I like Path, just not as a social network. In its current incarnation, I think it's a wonderful photo journaling tool. Private and slick, it seems made for tracking your own life, rather than sharing it with others. I'm content to use it as a documentary tool, regardless of whether anyone else sees what I've done.