Old, Weird Tech: Severed Head Life Support System Edition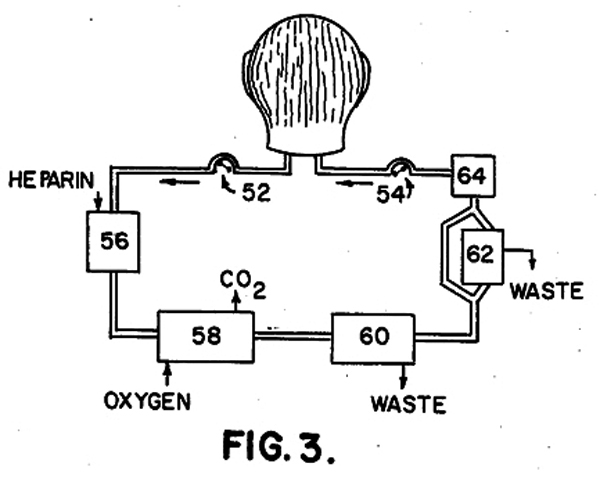 In 1908, Charles Guthrie was able to successfully amputate one dog's head and sew it onto the neck of another dog, rerouting the blood flow so that the animal had two (somewhat) functioning heads, according to Mary Roach's Stiff: The Curious Lives of Human Cadavers. "[T]oo much time (twenty minutes had elapsed between the beheading and the moment the circulation was restored) for the dog head and brain to regain much function," Roach explained.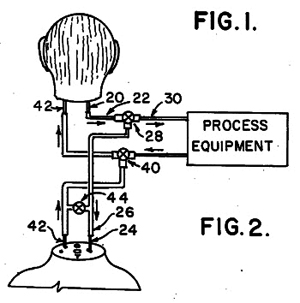 To solve that problem, scientists, 77 years later, patented a device for perfusing an animal head. "This invention involves a device, referred to herein as a 'cabinet,' which provides physical and biochemical support for an animal's head which has been 'discorporated' (i.e., severed from its body)," the patent's
abstract
explains. "This device can be used to support a discorped head with oxygenated blood and nutrients, by means of tubes connected to arteries which pass through the neck. After circulating through the head, the deoxygenated blood returns to the cabinet by means of cannulae which are connected to veins that emerge from the neck."
While scientists have long experimented with detaching and reattaching the heads of rats, dogs and monkeys, it's unclear why the illustrations that accompany the patent (seen above) clearly resemble a human. No human, to date, is known to have to been through the procedure. Technology doesn't yet exist to reattach the spinal cord, which means the patient is left paralyzed from the neck down.
Below is a video from a Russian experiment of a severed dog head being kept alive on a support system similar to the one outlined above. The first minute explains how the system works, the second shows an actual dog's head connected to the cabinet. The experimenter tickles the dog with a feather and rings a loud bell to elicit responses from his subject.