Old, Weird Tech: Portable Finnish Sauna Edition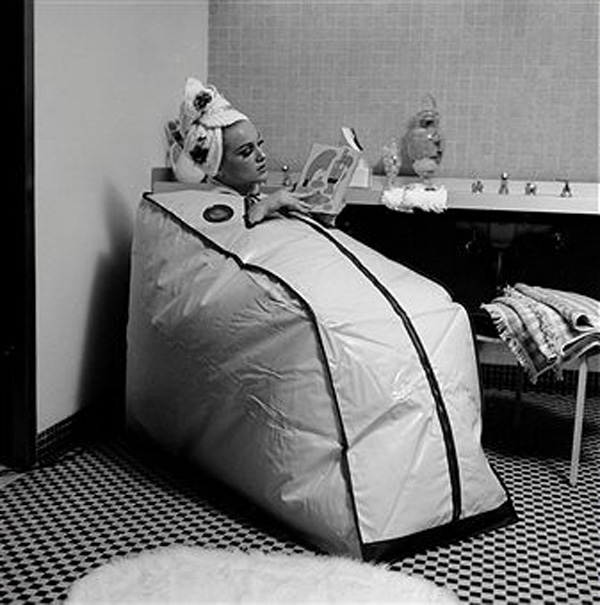 Saunas are an important part of Finnish culture. It is estimated that there are about two million of them in the country. With a population of just over five million, that's an average of one per household in Finland.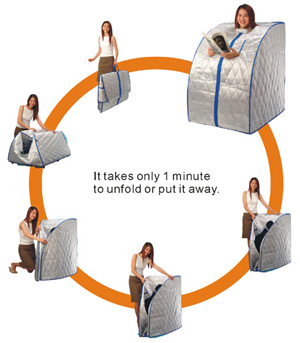 Before public health facilities spread around the country, Finnish women gave birth in saunas. Saunas can be found on the shores of Finnish lakes; in corporate offices; in the Parliament of Finland; at the bottom of the Pyhasalmi Mine, the deepest metal mine in all of Europe; in the Finnish Church in Rotherhithe, London; and even in carry-ons.
But what happens when you feel the urge to sweat and you're away from home or the office? What if you're visiting a relative in another country or if you've just moved into a new home and haven't had a permanent sauna installed? There's a solution.
The photograph above, taken in 1962, is the first example of a portable Finnish sauna that we could find. It was included in Life magazine's round-up of 30 dumb inventions. But a quick Google search shows that they haven't gone out of style. In fact, the Finnish Olympic teams reportedly take portable saunas with them when they leave the country for competitions.
You don't need to be an athlete to enjoy a sauna on the go, though. The sauna at right is available today -- only $199.00! -- from National Pool Wholesalers. "With no steam and no thermo of the ordinary sauna, you will still sweat all over your body when you use the FIR, even if it is in winter!," the site screams. When you're done, fold it up and carry it home.
Explore the complete Old, Weird Tech archive.
Images: 1. Portable Finnish Sauna, 1962, Getty Images; 2. National Pool Wholesalers.