Old-School Hi-Fi in Search of the New New Thing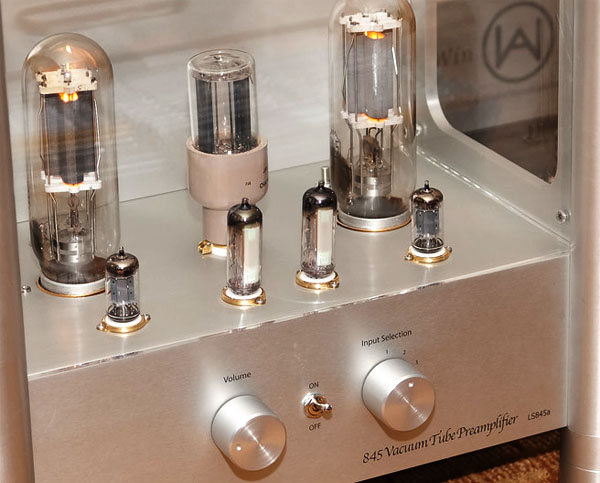 In recent years, the best place to take the measure of the American high-end audio industry and to hear what's new has been the annual Rocky Mountain Audio Fest (RMAF), a show that draws several thousand hi-fi enthusiasts, dealers, and manufacturers to a nondescript Marriott hotel in Denver for three days each fall. Compared to the colossal, roaring Woodstock that is CES -- the International Consumer Electronics Show -- the RMAF is a homespun revival meeting, an infinitesimal upstart that began only seven years ago. But with the venerable hi-fi sector now reduced to a tiny, shrinking percentage of the $182 billion U.S. consumer-electronics marketplace, high-end audio has been lost amid the din at CES. The community devoted to the cutting edge of refined sound now prefers to circle the wagons and celebrate its survival each October in Colorado.
I briefly visited the RMAF in 2005 and 2009, but this year I decided to take in the whole show, from midday Friday until the last subwoofer boomed sometime late Sunday afternoon. My first stop in the Marriott lobby was the Colorado Audio Society's table, where a garrulous house restorer and avid stereo hobbyist named Rick Turner ("Society member number two") walked me through the tale of his lifelong engagement with hi-fi, starting with a Silvertone record player in 1957. The Colorado Audio Society itself, which co-sponsors the Rocky Mountain Audio Fest, was founded three decades ago and has about 100 active members, including a handful of women -- "maybe three or four," Turner said. Al Stiefel, a hi-fi distributor, gear designer, and CAS stalwart, launched the RMAF in 2004,  but he died not long after the jam-packed 2008 show confirmed the event's preeminence and profitability. His wife, Marjorie Baumert, now runs it with the help of a corps of Colorado Audio Society volunteers and friends.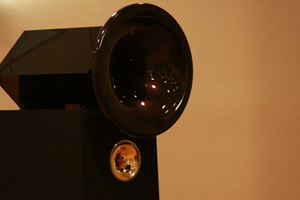 With local hi-fi dealers disappearing in droves, the RMAF is one of the best remaining ways to hear a wide range of new gear. The heart of the experience is a trek from one hotel room to the next, where tens of thousands of dollars worth of glowing components and looming speakers, hooked up with thick, snaking, overbuilt cables, are arrayed, altar-like, at the far end of the space. Walking down the hallways with muffled music leaking out of every door summoned up a Proustian re-imagining of my 1970s college dorm, with Springsteen and Boston replaced by lots and lots of acoustic jazz, often featuring female vocalists, from Ella to Norah Jones. Classical showpieces ("Trittico," "The Pines of Rome") are also popular.
It's an oft-cited truism is that a low-ceilinged hotel suite stripped of furniture, supplied with an overtaxed supply of AC power, and as crowded as a Marx Brothers stateroom can be a terrible place for a great hi-fi to get a fair audition. Exhibitors resort to acoustic room treatments and hulking power conditioners, yet it's surprising how many rooms full of dazzling, astronomically expensive components fail to come together in a coherent, musically satisfying way. But then, serendipitously, you find yourself in the middle of an epiphany, as an overwhelmingly convincing simulacrum of Nat King Cole or Johnny Cash or Avi Buffalo materializes before you in some dim recess of the Marriott, and you leave planning the bank robbery you'll have to pull off to bring that sound home. In rooms with gear from Musical Fidelity, PSB, Classic Audio, VAC Instruments and KingSound, Zu, Bamberg Audio, PS Audio, and deHavilland, I was transported.
Outside the listening rooms, the story of this year's Rocky Mountain Audio Fest traced the mood-swings and anxieties that buoy and beset the retro-futuristic world of high-end audio. Within, the RMAF is a burgeoning microcosm that mixes backward-looking analog antiquarianism with hopes for a hi-fi resurgence based on the promise of lossless and hi-res computer audio, on the development of newfangled home-server systems like Sonos and Sooloos, and on upbeat if vague notions of luring the lost generations of young music fans raised on MP3 back into the fold. (The preponderance of men over 50 at the show was impossible to miss.) A squadron of bloggers from Stereophile covered the hell out of the show's 400 exhibitors, spread across 180 rooms, and the magazine posted more than 150 brief online reports on new products and other offerings at the RMAF -- "evidence, I hope, of a strong and growing community," wrote Stephen Mejias, Stereophile's young-gun blogger.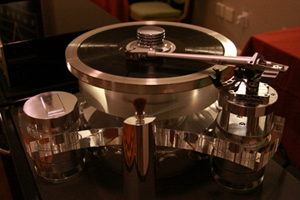 Looking beyond the Audio Fest, however, such strenuous boosterism might be criticized as a slightly evasive strategy of enumerating every tree to avoid essaying any overview of the forest. Elsewhere, I heard strong doses of bracing realism. Several well-attended seminars at the RMAF took on the flavor of a support-group confessional as the macrocosmic facts of high-end audio's dire trend lines were confronted head-on. A how-to session devoted to "High-End Digital on a Budget" quickly veered into this darker territory. Several regional electronics chains have gone out of business (including MyerEmco in the D.C. area and Ken Crane in Los Angeles), and metropolitan areas that once had five to 10 audio retailers have few or none left. "Our cheese is being severely moved," said David Solomon of Peachtree Audio.
Another session, "Are We There Yet?: The Past, Present, and Future of High-End Audio," was even more brutal about hi-fi's "shrinking demographic" and "negative growth." Phil Murray, the manager of e-commerce and marketing for ListenUp, a savvy and forward-looking Colorado retailer, noted that last year, headphone sales in the U.S. ($690 million) surpassed loudspeaker sales ($640 million) for the first time ever -- a stark measure of the Apple-driven gadgetization of audio. Murray added that his own two kids, both in their early 20s, are representative of their peers in that they never spend time in their dad's sensational listening room. "People just don't aspire to great sound," he said. "I've got this great hi-fi. They don't care about it."
Richard Schram, the CEO and president of Parasound, a San Francisco-based manufacturer of high-end audio gear used by many Hollywood studios and recording companies, was equally blunt. "Just walking around the show and looking at some of the spectacular equipment that's here," he said, "it's not equipment that the majority of the population would ever tolerate having in their homes, much less be able to afford. We've indulged in that. We've made ourselves a target of ridicule in many ways.... High-end audio has had a love-hate relationship with commerce."
There was plenty of spinning vinyl and luminous vacuum-tube amplifiers at the RMAF, but the brightest inklings of futurity were components like Wadia's Series 9 Decoding Computer, PS Audio's PerfectWave DAC, Benchmark's DAC1 HDR, and Peachtree's Nova -- all of them high-end bridges to fantastic sound quality via disembodied digital files that make a mockery of today's lossy MP3s. (High-resolution 24-bit/192 kHz files provide a degree of resolution and detail profoundly greater than standard 16-bit/44.1 kHz audio CDs.) Blackfire Research, a San Fransisco company, broke new ground by showing how to wirelessly stream this super high-res audio. Of course, such innovation still tends to come with a sobering price tag in a realm where "budget" often means a cool grand or higher, and a "bargain" could make a stockbroker blanch.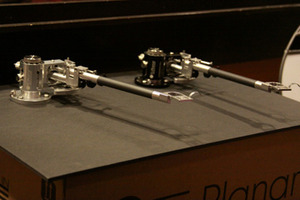 The room where the conundrums of contemporary high-end audio -- "handmade art vs. a computer chip," as I heard one show-goer remark -- seemed most acute was up in 9022, where Berkeley-based Magico displayed its Q5 speakers ($58,000 a pair) in a setting obsessively tweaked and refined by a range of no-holds-barred acoustic diagnostics gear. Solo piano via the Magicos gave the Steinway grand down in the lobby, played during several live recitals by Canadian virtuoso Robert Silverman, a run for its money. On Sunday morning I attended a demo in 9022 of Meridian's $7500 Sooloos Control 15 music server system, featuring a touch-screen tablet interface that lets you "swim" effortlessly through a 12,000-album collection and play it across an unlimited number of rooms. It was like a next-century dream of an iTunes portal to audiophile nirvana.
For now, it's a vision that has yet to find a realistic market iteration, but the prospect of somehow grabbing the attention of 179 million iTunes customers emerged as the only way forward at the RMAF. Lee Weiland, a digital cable designer at Locus Design Group, distilled it well at a seminar on "Embracing the Industry's Future."
"The way the industry is going, pretty soon there's not going to be any vinyl, there's not going to be any CDs," Weiland said. "I've been doing this for 25 years. This is the biggest opportunity for change I've ever seen. It is what it is. We all love vinyl, we all love CDs. But how long do we want to fight over the same 300 customers that are left in ten years? We just can't do it. We've got to expand our base. We've got to get the young people who are interested in good sound and are interested in the new music, somehow we've got to infect them with the disease. Computer downloading and music playback from computer are the wave of the future."
Or, as another attendee put it, "Everything that's all-analog is obsolete."
Images courtesy Marjorie Baumert, Director, Rocky Mountain Audio Fest: 1. jstachowski/SmugMug; 2-4. rmaudiofest/Flickr.