Netflix Rolls Out Streaming-Only Option, Price Hikes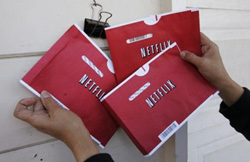 This morning, Netflix introduced a new streaming-only plan. For $7.99 a month, customers can watch unlimited television episodes and movies (chosen from those that are available on the limited service) from a computer or Netflix-enabled TV.
Buried in the announcement, Netflix also rolled out price hikes for its DVD subscription services. The two most popular plans -- those that allow you to stream an unlimited number of movies or shows but also check out one or two DVDs at a time -- are increasing by $1 per month. The other plans will cost x dollars more per month, where x is the number of DVDs that you can have checked out at any one time. (i.e., the four DVD plan will go from $23.99 to $27.99 per month.)
For those of us who are already Netflix subscribers, the price hikes won't appear on our bills until January. New subscribers have to pay the new prices.
This announcement has been anticipated for some time. Canadian users have long enjoyed an $8/month streaming-only option and, about two months ago, rumors started circulating that Netflix was considering a similar plan for the United States. It was never anticipated, though, that prices would be going up.
And that's because it doesn't really make sense.
"You might also wonder why we haven't introduced a new plan that includes only DVDs by mail," one member of the Netflix team wrote on the official company blog this morning. "The fact is that Netflix members are already watching more TV episodes and movies streamed instantly over the Internet than on DVDs, and we expect that trend to continue."
As more and more users continue to stream -- and downgrade from the DVD subscriptions or sign up because of the new streaming-only package -- Netflix is going to save a bundle on postage. In October, CEO Reed Hastings said that the company spent in excess of $600 million every year just to mail those ingenious red envelopes. Of course, the costs associated with streaming -- namely, giant data farms (Netflix outsources most of the heavy lifting to another server company) -- must be enormous given that Netflix accounts for roughly 20 percent of all Internet traffic in the U.S. during peak hours, but surely those figures -- whatever they may be -- have been worked into the streaming-only price. So why the hike for the last DVD holdouts? Netflix should put together a price structure that's based on individual usage.