More Thankfulness (Mobile Operating System Dept)
Any day now, I will get back to some long-pending "software week" entries (best browsers; best new "thinking" software; the joys of moving to an all-cloud work style; etc) plus some hardware notes (newest computer in the household and what I've learned from it).
For now, a tip: if you have one of the Apple mobile devices eligible for the iOS 4.2 upgrade, by all means get it. It's free, and instructions are at the Apple site. It's for iPad, iPod Touch, and iPhone 4. Of those, I have only the iPad, but there it makes a big difference. I am an iPhone holdout because I love my oddball, commercially orphaned Android-powered Nexus One.

The UK tech blogger Dominic Fallows (right) for whom I sometimes receive misdirected email and to whom I must be related in some way, has a wrap up of the new OS here today. Main points, both from his review and from my experience: everything seems faster overall. And while it doesn't offer "real" multi-tasking, as the Android/Nexus One does, it has arranged a way to keep several applications in nearly-running status, so you can switch back and forth much more quickly than before.* There are also folders for grouping apps, the ability to print from the iPad, and some other additions. "Multi-task" image from Dominic F's site below -- the "running" apps, which really means the ones that are immediately switchable, are the ones at the bottom.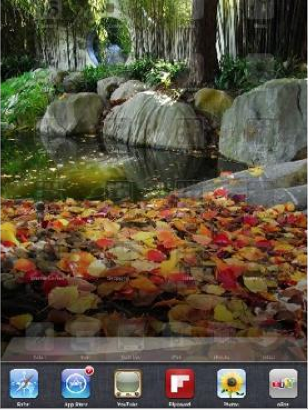 This isn't exactly news, but it's new-ish and worth recognizing in seasonal gratitude.
* I assume that the lack of real multitasking, which would keep numerous programs actively running all the time, is connected to the iPad's very impressive battery life. The Android, by contrast, barely makes it through a full day of serious use.