MacBook Air Users Experience Screen, Battery Problems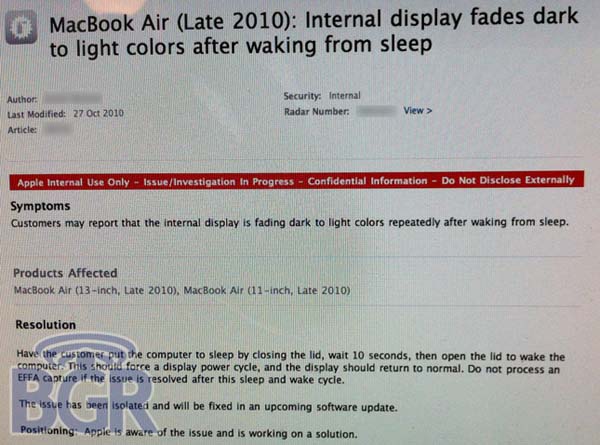 Having some trouble with your MacBook Air? You're not alone. The new iteration of Apple's thinnest, lightest laptop was unveiled recently to much fanfare. But the honeymoon is over. Users have been reporting lots of problems with their screens: flickering, horizontal lines randomly appearing after waking the computer, fading from dark to light and back again.
A memo marked "Apple Internal Use Only" was leaked by Boy Genius Report this morning that shows Apple is acknowleding the problem -- at least within the company. "When dealing with customers, Apple employees have been instructed to state that the company is aware of these issues and is working on solutions," BGR reported. A software fix is, supposedly, on the way.
The screen problems aren't the only headache Apple will have to deal with when it comes to the MacBook Air, though. According to a review of the notebook from Ars Technica that was posted a couple of days ago and started to receive some pick-up this morning, installing Flash on the Air cuts battery time by as much as 33 percent. "With a handful of websites loaded in Safari, Flash-based ads kept the CPU running far more than seemed necessary, and the best time I recorded with Flash installed was just 4 hours," wrote Chris Foresman. "After deleting Flash, however, the MacBook Air ran for 6:02 -- with the exact same set of websites reloaded in Safari, and with static ads replacing the CPU-sucking Flash versions."
When Apple announced that it would be shipping the MacBook Air without Flash pre-installed, it was chalked up as an expected extension of the long-running feud between Apple and Adobe. That was probably part of it, but did Apple know that the battery life -- one of the Air's much-celebrated specs -- would be cut so dramatically once users started installing a pretty standard platform? We'll have to wait for the next leaked memo.
Image: Boy Genius Report.