Legendary Design Firm Gives Facebook a Facelift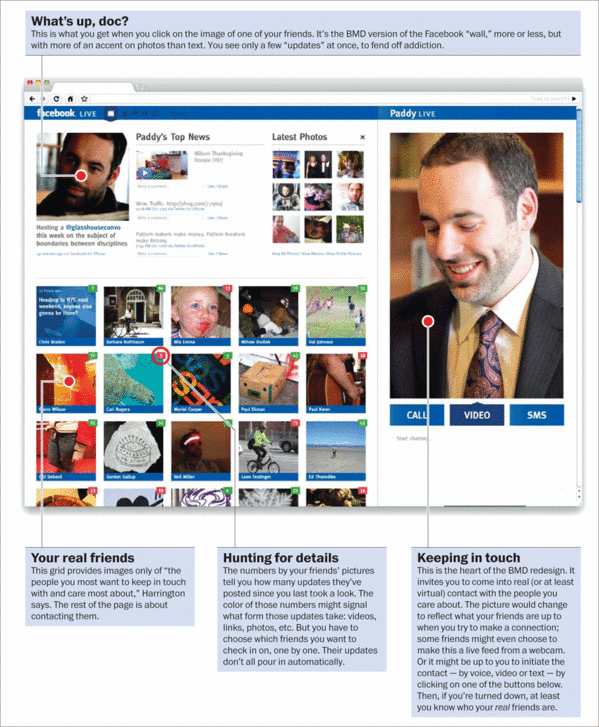 Everyone has an opinion about Facebook's design, and how it should change to fit their needs better. But not everyone could actually remake the page from the ground up. The Washington Post asked Bruce Mau Design, a major and innovative firm, to take a crack at remaking your Facebook page.
I have three quick thoughts here.
One, it looks a lot like the new Windows Phone 7 operating system. Second, when we read what the firm had to say, you realize how difficult Facebook's task really is. So, it's easy for Bruce Mau Design to present a grid that only shows, "the people you most want to keep in touch with and care about," but it's very difficult to automatically figure that out. Instead, you've got to deploy some ranking algorithm that will undoubtedly put people in there that are not your (as they put it) "real friends." Third, they emphasize getting in touch through outside services. So, there is no "Facebook message" or "email" on their contact box on the right. Instead the options are Call, Video, SMS. I find that a fascinating choice, an implicit accusation that Facebook messaging and/or wall posting is somehow deficient. I heard that criticism over and over last week after I wrote a response to Zadie Smith. At least for some people, Facebook messaging -- though it's not technically different from email -- doesn't work as well for them. Perhaps that discontent is legitimately widespread, and part of the reason Facebook is expected to announce an email service today.