Beloved Show 'The Wire' Lives on Through Facebook Page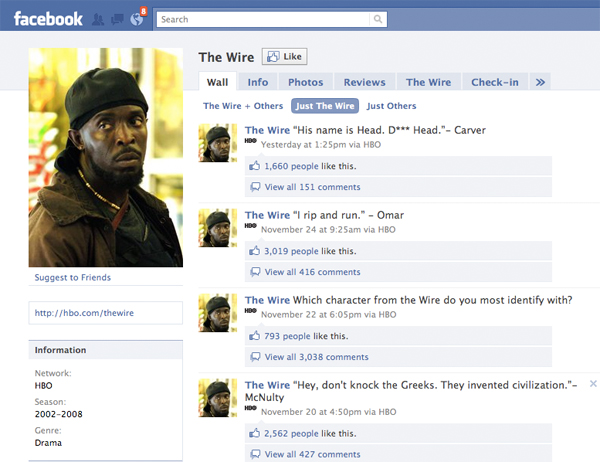 When The Wire wrapped up its spectacular six season run a couple of years ago, it was probably the worst entertainment-related moment of my life. The Wire's highlow realism and grand sweep felt like War and Peace for our moment and I loved it from the first episode on. Since the show ended, fans like me have wandered the channels looking for the next TV high. But nothing (not even Treme) has been the same.
And it's those memories that seem to drive The Wire's Facebook fan page, an insanely popular destination that traffics merely in one-liners from the show. The page's proprietor posts "I rip and run" by Omar, and 3,000 people will "Like" it. Another 415 will comment on it. Just try and build that kind of social media presence for your publication!
What we're looking at here is is one long goodbye card from the Internet to The Wire -- and it grows each and every day.
Via @Eugenephoto.