Amazon's Shaky Content Guidelines: The Case for Pedophilia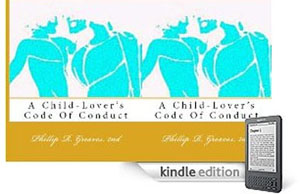 Last night, Amazon executives decided to pull a self-published book about pedophilia off their digital shelves. The move followed threats to boycott the site stirred by a rapidly-spreading story over the Internet. Earlier in the day, Amazon had defended its initial decision to keep the book, which saw a 101,000 percent jump in sales over 24 hours, climbing the ladder into the top 100 best-selling paid e-books for Kindle. Amazon was right the first time, wrong the second. If I want to buy a book about pedophilia -- or anything else -- on Amazon.com, I should be able to.
Responding to the first wave of stories yesterday, an Amazon representative said:
Amazon believes it is censorship not to sell certain books simply because we or others believe their message is objectionable. Amazon does not support or promote hatred or criminal acts, however, we do support the right of every individual to make their own purchasing decisions.
Bravo. But that policy was quickly wiped out by one man's obscene e-book. What books will Amazon decide to keep you from purchasing next?
The Pedophile's Guide to Love and Pleasure: A Childlover's Code of Conduct went on sale on Amazon.com at the end of October for $4.79. Written by 42-year-old Philip R. Greaves II, the book offers how-to advice -- use latex gloves for small boys when condoms won't fit -- and "muddled philosophical defense of pedophelia," according to Gawker. "But we can safely say this book will not convince a single regular person to become a child predator." As is often the case with viral stories, the book only started selling well because people were made curious by the avalanche of online coverage.
"This is my attempt to make pedophile situations safer for those juveniles that find themselves involved in them, by establishing certain rules for these adults to follow," Greaves explained in the product description that accompanied the title when it was available on Amazon (dead link). "I hope to achieve this by appealing to the better nature of pedosexuals, with hope that their doing so will result in less hatred and perhaps liter [sic] sentences should they ever be caught."
Any business can choose what it will or will not sell, and this book makes its own case for inclusion in the "will not sell" category. No help needed. But where do you draw the line if you draw one at all?
Under the First Amendment, "Amazon has the right ... to sell any book that is not child pornography or legally obscene," Christopher Finan, president of the American Booksellers Foundation for Free Expression, told ABC News. Without illustrations, the Pedophile's Guide doesn't count as either. Amazon's editorial policy -- before yesterday's decision to pull Greaves' book -- was to block pornography; "offensive material," defined as "probably about what you would expect;" stolen goods; and illegal items. Amazon, it seems, dislikes offensive material, but not objectionable material. Now, we don't know what the policy is. The content guidelines online haven't changed since yesterday's decision, but neither has the selection.
A quick tour through Amazon this morning turned up a few interesting books: Midas Dekkers' Dearest Pet: On Bestiality; Arthur Butz's The Hoax of the Twentieth Century: The Case Against the Presumed Extermination of European Jewry; and a number of other titles that would be considered offensive by many. But not by the Amazon executives who stand to profit from their sales and allowed them onto the site. If Amazon wants to clean up this mess, they should implement a strict set of guidelines and stick to them.