Trying to Test Skype's New Facebook Integration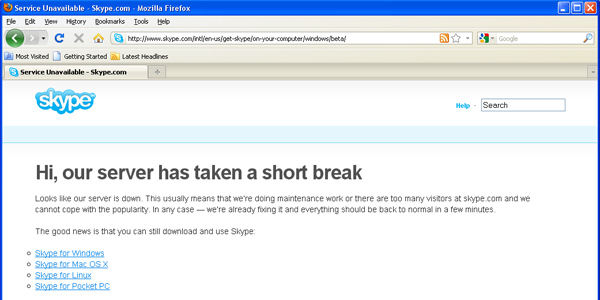 In a video posted to its official blog this morning, Skype announced heavy integration with Facebook in the new Skype 5.0 (currently not available for Mac users). The incredibly popular service, which offers free Internet voice and video calling, now includes a Facebook tab that allows users to monitor their News Feed while chatting. The tab is also supposed to offer users a one-click option for connecting with Facebook friends. Click the button, call your buddies.
But my efforts to test the new Skype out this afternoon were a bust. Although it allowed me to download the application, the Skype server was overloaded by "too many visitors" and repeatedly had trouble connecting with Facebook, as you can see below.
Beyond the the integration features, the new Skype does offer other improvements over previous iterations.
"Video calling accounted for approximately 40% of all Skype-to-Skype minutes in the first half of this year, and with the new version of Skype, you'll receive a free trial of group video calling in beta," according to the official blog. "We've added a dynamic group video calling view, which it easy to follow who's talking by moving the focus to the person speaking on the call...."
We'll have to take their word for it.
UPDATE: Within minutes of posting this story, Skype's public relations team reached out to me via e-mail. If you're having trouble downloading the service, visit this page directly instead of navigating through the homepage. My Facebook News Feed is now also working through Skype. Hopefully it is for everyone and this isn't special for me; I don't know what kind of behind-the-scenes wizardry they're capable of over there.