Report: BP and Halliburton Knew Macondo Well Cement Might Be Unstable
An investigation finds that Halliburton's own tests showed a key cement mixture had flaws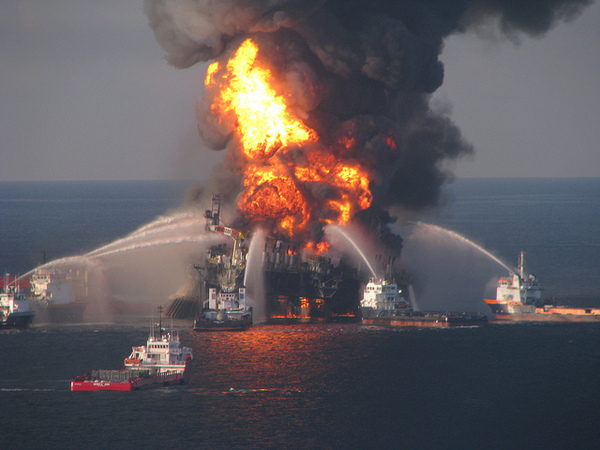 Halliburton knew that a particular cement mixture it pumped into BP's Macondo well had been found unstable in laboratory tests, according to a new letter from the National Commission on the Deepwater Horizon Oil Spill and Offshore Drilling.
The cement was meant to help seal the well. Halliburton has strongly denied that its cement job played any role in the disaster. Earlier this month, Thomas Roth, Halliburton's vice president of cementing, defended his company to Oil & Gas Journal:
Problems with the cement could have been traced to its possible contamination, incomplete laboratory testing beforehand, or use of an unstable foam slurry which would have resulted in nitrogen breakout, none of which apparently occurred, he explained. Roth said Halliburton supplied the cement based on BP's specifications, tested it in its own laboratory, and recommended a formulation based on that information. Tests took more than 400 hr and indicated that the foam system was stable on delivery, he said.
In other words, Roth claimed that the cement mixture had been found stable during testing by Halliburton. The new report from National Commission shows otherwise. Only one of four tests run by Halliburton found that the cement mixture would be stable. In no uncertain terms, the Commission's investigators castigated Halliburton:

Halliburton and BP both had results in March showing that a very similar foam slurry design to the one actually pumped at the Macondo well would be unstable, but neither acted upon that data; and Halliburton (and perhaps BP) should have considered redesigning the foam slurry before pumping it at the Macondo well.
Wall Street traders reacted sharply to the finding, pushing Halliburton's stock price down 15% in the minutes after its release. It has since recovered, but shares remain down over 10%. That decline shaved more than $3 billion from the company's market value.