Growing Food for Future Moon Colonies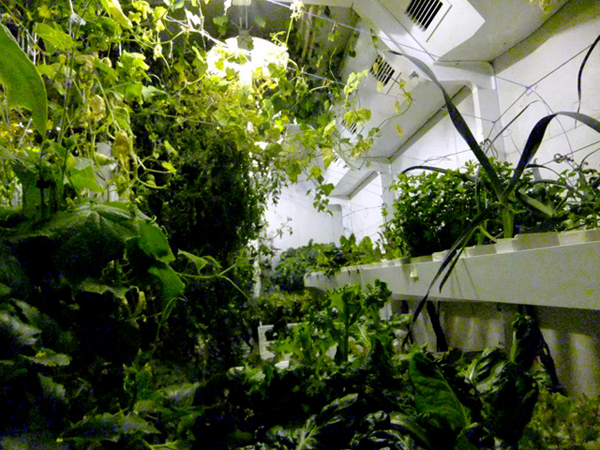 Scientists working at the University of Arizona's Controlled Environment Agriculture Center (CEAS) have built a prototype for a collapsible lunar greenhouse that could help to sustain future colonies on the moon. (It has to collapse for interplanetary space travel.) The greenhouses -- essentially long tubes -- would be buried underneath the surface of the moon so that plants could survive cosmic rays, micrometeorites and solar flares.
"The membrane-covered greenhouse module can be collapsed down to a 4-foot-wide disk for easy storage," reported Space.com. "It would be fitted with water-cooled sodium vapor lamps and long envelopes that would be filled with seeds, primed to sprout hydropoically."
The scientists have used a similar system operating at a research station near the South Pole as inspiration. The South Pole Growth Chamber is used to grow vegetables for the men and women who, working in Antarctica, are cut off from the rest of the world for six to eight months out of the year.
The South Pole Growth Chamber is currently producing between 35 and 40 species of plants, according to Jeff King, the South Pole correspondent for the Antarctic Sun, a project of the National Science Foundation. In a report earlier this year, King noted that the 47 people living at the research station had consumed more than 500 pounds of fresh vegetables grown in the Chamber over the previous three months.
The team working at the University of Arizona hope to take that already-successful model and improve upon it. "We want the system to operate itself," Murat Kacira, an associate professor of agriculture and biosystems engineering, told Space.com. "However, we're also trying to devise a remote decision-support system that would allow an operator on Earth to intervene. The system can build its own analysis and predictions, but we want to have access to the data and the control system."
The moon is a harsh place. As we all learned from Kubrick's 2001: A Space Odyssey, it might be best to have a kill switch off site when sending self-operating systems into space.
Image: Inside the South Pole Growth Chamber; Jeff King, National Science Foundation.