Google Bets on Underwater Transmission Line for Offshore Wind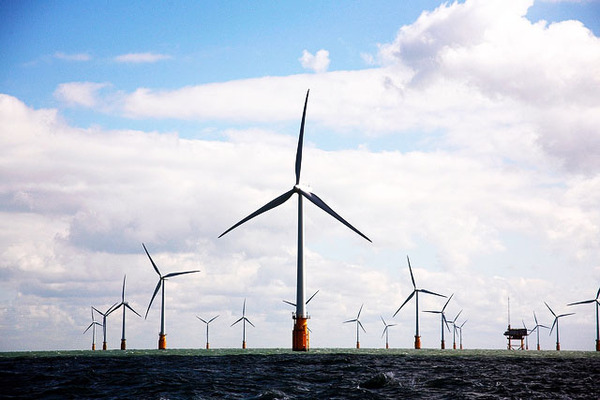 Google's long-time interest in clean energy technology took an interesting turn today as the company announced an investment in an underwater grid project off the east coast of the United States. The New York Times pegged the investment at up to $200 million.
While onshore wind farms have carpeted the midwest, offshore wind farms have had a difficult time getting permitted and built in this country. The attraction of offshore wind is that the winds (generally speaking) blow stronger and steadier. The floating turbines can also be much larger than their terrestrial cousins. The Department of Energy would like 10 gigawatts of offshore wind power to be installed along our coasts by the year 2020.
Beyond the risk inherent in deploying a new major energy technology, the big offshore farms have faced protests from locals worried about their beach home views and marine birds.
Google's total project -- which is being developed by transmission builder Trans-Elect -- would run 350 miles from New Jersey to Virginia. It would supposedly allow turbines connected to it to be sited farther offshore, away from NIMBY complaints.
"This will serve as a clean-energy superhighway, with on-ramps for wind farms and the ability to be intelligently expanded," Rick Needham, Google's green business operations director, told a news conference, reported Reuters. "We can help kick-start an industry that can provide thousands of jobs."
Google's investment attempts to address another special American concern. The cost of wind is determined not just by the costs of building and operating wind machines, but by the ability to integrate them into the grid through transmission links. Onshore, building power lines is a complex process that, unlike natural gas pipelines, has to be negotiated on a state-by-state basis. One reason that Texas has been a leader in wind power is that the state contains both great wind resources in its western reaches and the ability to get transmission lines strung to the population centers of its east. The U.S., as a whole, has essentially the same need but a worse regulatory regime.
Offshore transmission is an even trickier business in some ways. Most submarine power cables use high-voltage direct current as opposed to the long-standard alternating current lines that constitute most of our grid. On the other hand, you're not trying to run a massive row of towers through anybody's ranch or past their exurban development.
The line could support up to six gigawatts of turbines, which would supply as much power as a few large coal plants, depending on how steadily the winds blow. While this is an exciting development, it's important to keep in mind the scale of the transition the country faces in decarbonizing the electric system. The Department of Energy's National Renewable Energy Laboratory estimates the U.S. has 54 gigawatts of offshore wind capacity. The U.S. has more than 1,400 coal power plants with a nominal capacity of 337 gigawatts.
Image: Flickr/Muon.