Don't Dismiss Groupon's Pro-(re)creational Site as a Stunt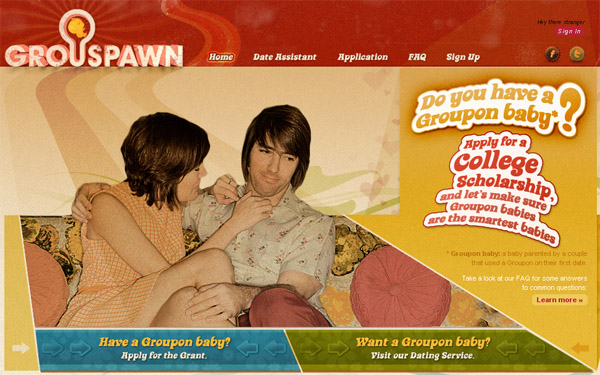 Groupon, the incredibly successful deal-of-the-day website that unites people under the banner of collective coupon purchasing, has a new mission: uniting people to make babies.
At the TechCrunch Disrupt conference this week, CEO Andrew Mason announced the launch of Grouspawn, a dating site for Groupon users. But wait, there's more. Any couple that can prove they were first brought together by a shared Groupon deal -- photographs with a newspaper showing the date will suffice -- is eligible for a $60,000 college scholarship for their Groupon baby. The site plans to give out two scholarships every year. And it's retroactive! (Nobody has applied yet.)
My first thought when I heard about the launch was the same as most everybody else: This has to be a joke. A nice public relations move, but a joke. Now, I'm not so sure. I mean, it's definitely a publicity stunt -- Groupon is really good at that. But it has the potential to be so much more.
When he read about Grouspawn on TechCrunch, Vince PeGan, 24, also thought it was a joke. "When I browsed around the site and found out it was real, it made the concept even more hilarious," he told me.
I took a bit more convincing than that. The site looks like an advertisement from the 60s, all primary colors and floral print fabrics. And it's full of jokes. On the FAQ page: "Q: What does this cost? A: Nothing. Grouspawn's dating service, like love, is literally worthless." These style and design choices led the Wall Street Journal and other outlets to dismiss the service. But they're just an extension of the fun-loving spirit that has made Groupon a success.
Yesterday's deal in Washington, D.C.: $6 for one general-admission ticket to the inaugural RiverFrontFrest. "Head-spinning and high-flying highlights will include a breakdance competition and the most exciting live trapeze demonstration since Bronson Pinchot appeared on Circus of the Stars in 1987."
Reportedly, the company employs four or five full-time comedians to spice up the writing on its site. It shows. And that's why Grouspawn comes off the way it does. It may be full of jokes, but Groupon, at least, claims to be committed to the site.
"The site is minimalist to keep breeding at its most basic level. Beyond a name, a photo and knowing your suitor's favorite Groupon, we don't think anything else is required to find a spawning partner," said Julie Anne Mossler, Groupon's public relations and consumer marketing manager.
"In all seriousness, we want to do something for the children and are totally committed to two scholarships per year if people apply that meet eligibility," Mossler said.
If Groupon was pretending to going to take it seriously, so would I. I followed PeGan's lead and dove in.
In the time it took me to create my own profile (I was encouraged to "find [my] most misleading photo and upload it") and take some notes, more than 40 new people had joined. (There are now 160 members, though 30 of them are Groupon employees, Mossler admitted.) jennyeclec is a sustainability guru from Chicago who is looking for someone similar to Ned from Pushing Daisies. brownflitter is a 29-year-old San Franciscan who claims to be the Pete Campbell of your dreams. leah is from the south and likes to run and play soccer.
These are not unlike the people you might find on any other dating site. But the success rate could be higher. Unlike a site like Match.com, with its diverse user base, all of the Grouspawn users have something in common: they love themselves a bargain-filled good time!
After using Groupon for a couple of months, PeGan is convinced that he knows the type of people who, like him, would be drawn to the service. "I decided to sign up because the Groupon buyer community represents the type of people I like to surround myself with," he wrote to me after I messaged him through the site. "I'm talking about a 20-something who is always looking for something fun and new to experience -- and usually on a budget. If I can find a fine young Grouspawn lady with the same approach to life as me, heck, I may get a shot at the big payoff."
The money -- that $60,000 scholarship -- is on the back of PeGan's mind. But it isn't the most important thing. "Even if I get a couple of dates and some fresh laughs I'll consider it a win," he said. PeGan hasn't had any luck yet, but I'm sure something will come his way. He is, after all, priced to sell.