Digg's Newest Corporate Sponsor: BP America
Since its redesign at the end of August, social news service Digg has been beset with problems. Traffic plummeted by 26%, and Digg founder Kevin Rose announced that he would be leaving his baby behind. Worse, Digg's hardcore user base immediately revolted against the redesign, flooding the front page with links to competitor Reddit, and the Digg team has been gradually reintroducing features from its previous iteration to appease its increasingly frustrated user base.
A user spotted an sponsored link to an Alabama Press-Register article "Offshore world looks good after Gulf oil spill, scientists say (with video)" on the front page: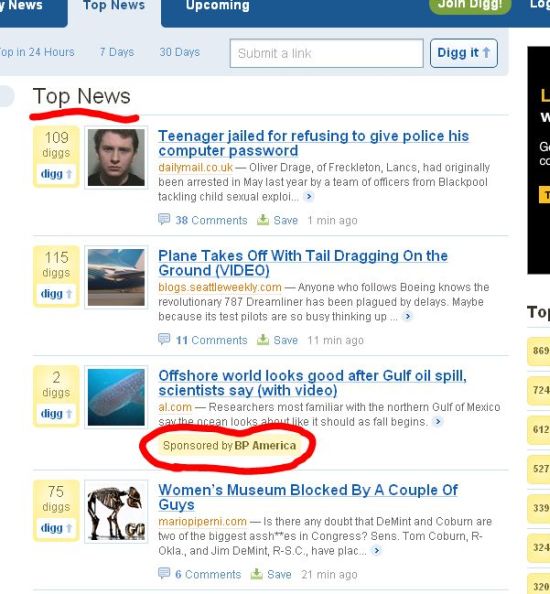 The article suggests that sea life in the Gulf coast may be returning to normal, although the assessment is far from scientific:
"Working from the grand caveat that most of the information we have is anecdotal and suggestive," said Monty Graham, a biologist at the Dauphin Island Sea Lab, "it does not appear that there are large pools of oil running around on the bottom [of the ocean], wreaking havoc."
If Digg is looking to save its reputation, hosting ads by BP America probably won't help. While Digg once prided itself on serving its community, a common complaint among members of the Digg community is that the company "sold out" to mainstream publishers in an effort to prop up falling revenues. Mashable's domination of the Digg front page within the first days of its relaunch indicated an unwanted trend for loyal users, making Reddit (which sassed parent company Conde Nast over pot legalization ads) seem a more appealing, independent alternative.
Hosting sponsored links is not new for Digg. But hosting links from BP America only reinforces that conception that Digg is desperate for corporate support. During the height of the oil spill, the Digg and Reddit communities took pleasure in flaming the vilified oil giant. To prominently host BP-sponsored links cheerleading a return to normalcy in the Gulf doesn't bode well for a website desperately trying to bring back users.
Update, 1:24 PM: Digg has informed me that they are currently preparing a quote. I'll post it here once I receive it.
Update, 1:53 PM: I recieved this statement from Chas Edwards, Digg's Chief Revenue Officer:
Digg accepts advertising from any company as long as the company and the content do not violate our Terms of Service (inappropriate language, illegal business such as gambling or porn, etc.) and as such, BP has initiated an ad campaign with Digg, similar to ad campaigns that they have already been running in recent months with Google, The Wall Street Journal, The New York Times and the Washington Post.

Specifically, BP is currently running a "Digg Ad" which is a promotion that every Digg user knows appears as the 3rd placement in the story list on our homepage. In addition, this ad is clearly marked "Sponsored by BP America."
H/T Redditor xbox666