Consumers Innovate More Than Companies
When we discuss innovation, we tend to talk to talk about Bell Labs and Google. But a new paper challenges that notion, arguing that British consumers actually outspend companies on innovation.
When they adapt, change, hack and remake products they buy into better things, it's not a trivial thing. They are actually innovating, and in a first-of-its-kind paper, MIT researcher Eric Von Hippel has actually quantified the R&D power of the people.
Based on a survey of 1,173 UK households, Hippel estimates that 2.9 million Brits engaged in product development -- and that they spent 2.3 billion pounds in the process. That's more than twice what British firms officially spent on the innovation process.
Hippel's work suggests that people like you and me (and Mark Frauenfelder) are a hidden engine of economic development as we reshape the things that we buy. If we assume that American households are as innovative as their British counterparts, 14.5 million of us develop products, and we spend something like $18 billion a year doing it.
"We also find that consumer product innovation spans a wide range of fields, from toys, to tools, to sporting equipment, and to personal solutions for medical problems: clearly, consumer innovation is not a niche phenomenon," Von Hippel and two European colleagues wrote. "We discover that consumer-developed innovations generally diffuse freely from the perspective of consumer-innovators. Very few consumers protect their innovations by patents or other means, or receive payments for them."
It sounds a little unlikely that everyday people could somehow do more R&D than a nation's firms. But when you start to think about all the little things that we jerry-rig in all different areas of our lives, it starts to seem possible, even sensible. Here's the list of examples that Von Hippel included in the working paper, which is available on the Social Science Research Network website.
I'm personally trying to figure out how to disable the bell on my washing machine -- and when I do, I'll celebrate not just my victory over the loudest noise in the world, but also the power of consumer innovation. I'd love to hear about your hacks and fixes, too. I'm sure everybody's got at least one.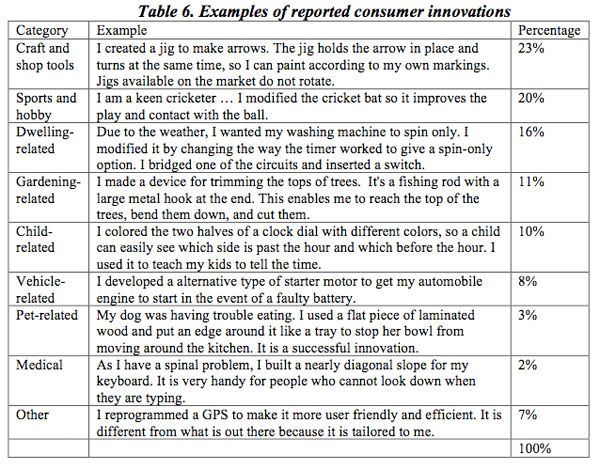 Image: flickr/leebennett