Chrome Gaining Market Share, Firefox Holding Steady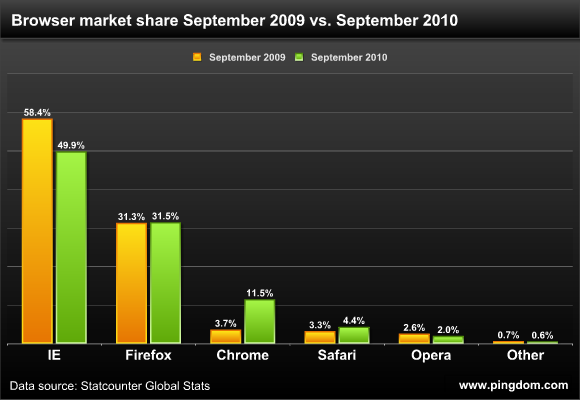 I post this graph from Pingdom because my intuition is that it's actually quite misleading. On first inspection, it would appear that Firefox usage is holding steady while IE loses users to Chrome. And maybe that's what's happening.
But I think it's more likely that Firefox users are switching to Chrome as Internet Explorer users simultaneously switch to Firefox. The net result is that Firefox's market share holds steady, even as its user base changes.
* Internet Explorer is losing market share (as it has been ever since Firefox arrived in 2004).

* Firefox is neither growing nor losing market share.

* Chrome has more than tripled its market share in the last year. It's growing much faster than any other browser.
Read the full story at Pingdom.