What Motivates Amazon's Hardcore Raters?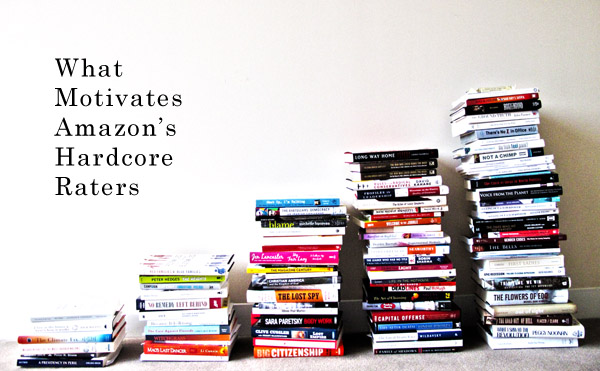 Harriet Klausner is a speed reader. It's a gift she was born with, according to her Amazon.com profile, where she also claims to go through two books a day. Even at that speed it would take more than 31 years to read the 22,824 novels Klausner had reviewed as of this writing. But why does she do it?
After earning her master's degree in library science, Klausner moved around the United States with her husband, a palm reader. This, according to a personal website she maintains with a complete archive of her reviews. (Klausner didn't respond to an interview request.) "I also watched my book reviewing career begin to take shape," she writes, noting that, with each city she moved to, she always found work with a library or bookstore. "I take immense pleasure informing other readers about newcomers or unknown authors who have written superb novels."
Beth Cholette, a psychologist who works at a college counseling center, also sees her Amazon profile as a way to inform others. A self-described "fitness enthusiast," Cholette reviews exercise DVDs, the occasional "chick lit novel" and some other products -- "like a protein bar." She does it "to help others," she told me. "That's it."
And help she has. With about 1,500 reviews to her name, Cholette will probably never unseat Klausner as the most prolific Amazon reviewer, but she ranks higher on the website's list of top customer reviewers. Under the new ranking system, Cholette places fourth because 93 percent of her comments have been chosen as helpful by readers. She also has more than 240 fan voters, or customers who frequently return to see what she has to say.
Klausner, on the other hand, ranks around 700. Only about 70 percent of readers have rated her reviews as helpful. Some, in fact, believe she's lying about having read that many books, calling attention to month-long spurts during which she averaged about 20 reviews per day. All of her reviews are either four or five stars and could be written after having read a jacket cover, her critics have said, with one going so far as to launch The Harriet Klausner Appreciation Society at harriet-rules.blogspot.com, a group blog for those who decidedly do not appreciate Harriet Klausner.
It's even been suggested that Klausner doesn't exist, or that the profile exists as a means of self promotion for publishers. But "Our Lady of the Infinite Reviews" has been profiled everywhere from Wired to Time, where Lev Grossman wrote that "online critics have a kind of just-plain-folks authenticity that the professionals just can't match."
And that explains why Amazon's reviewer system is so successful. It's built entirely on the back of the everyman. Cholette might call herself a fitness enthusiast, but she still spends most of her hours doing things the average Amazon shopper can relate to: working, commuting, being with family.
"Unfortunately, I believe that the difficulties in navigating the menus of this DVD significantly limit its usefulness," Cholette wrote in her review of Jason Crandell's Yoga Journal: Pose Encyclopedia. "Although it may have some value as a reference tool for beginning yoga students, the layout of this 'encyclopedia' prevents it from being utilized effectively as a follow-along practice. Finally, while I am generally a fan of video media, in this instance, I think more experienced students or teachers looking for a reference manual would be more likely to benefit from one in book form...."
As a writer, it's difficult for me to reproduce those sentences here. They're bland. But Cholette is not a writer; she's a psychologist who just happens to enjoy spending her free time with exercise DVDs. And who am I to judge her review anyway? Two out of two people found it helpful.

---
Hundreds of Amazon users have reviewed more than 1,000 products each on the site. And millions of people have read and responded to those reviews. Amazon maintains two different public lists of the top 10,000 reviewers: a classic ranking and a new ranking that are both updated daily. In addition to emphasizing reviewers who have been rated as helpful, the new ranking gives more weight to recent reviews and attempts to weed out friends who might be "stuffing the ballot box."
Publishers recognize the value in this system. Klausner, Grossman wrote back in 2006, receives an average of 50 free titles every week from publishers hoping to get her attention -- and her review. After she entered the top 100 reviewers, Cholette started receiving so many requests for review -- several each day -- that she implemented a set of guidelines.
"With respect to books, I accept only official publisher's copies," she wrote. "Please do not offer me e-books, electronic manuscripts, PDF files, or pre-publication galleys (bound advanced reader edition copies are acceptable)." People do follow Cholette's guidelines, she told me. "If they don't, they receive an unceremonious refusal from me," she said.
Sounds harsh, but she's a busy woman, writing reviews whenever she can find the time. "My husband probably curses buying me my own little netbook computer a year ago for my birthday," Cholette said. From home and from work -- when there's downtime -- Cholette has been writing for Amazon since 1998. Twelve years. That's longer than most websites have existed.
Artist representative and gallery owner Grady Harp, another twelve-year Amazon veteran, also receives galleys from new writers looking for an opinion on their work. And he's happy to provide it. "I happen to enjoy that -- being part of the creative process," he told me.
Harp is that rare reviewer who ranks high on both quantity and quality lists. With nearly 5,000 reviews to his name, Harp sets aside time to review -- or think about his next review -- every day. "I set aside some brain exercise time or review on a daily basis," he said. "Even if I'm too tired, I still think it makes by brain cells tick better."
And it has paid off. Harp, who also writes poetry in his free time, has been approached about providing professional reviews for various publications. Harp has taken some of them up on the offer, putting thoughts to paper for Poets and Artists, The Art of Man and several other publications, both in print and online. But he doesn't get paid for his work, on Amazon or elsewhere. He does it because he feels like he owes it to the writers who approach him.
"Writers and publishers send books to me to review and I always feel that if they went to that trouble the least I can do is read and review," he told me. "I just try to immediately sit down and write when I finish something, sort of completing the cycle of communicating with the writer."
Harp would consider doing this line of work full-time, professionally. "But that might get old after a while," he said, because he'd then have to read and listen to things he doesn't enjoy. With Amazon, he can focus on art books and classical music, he can write about and promote the sort of work he enjoys. On the e-commerce site, he has built a large audience of fan voters -- more than 800 -- who share similar interests. He can help them decide what to purchase next.
Harriet Klausner may not be a self-promotion robot for publishers, but it seems they are benefiting from the system. Send book to Beth Cholette, get review, sell more books. It's a win-win-win, for publisher, for user and even for Cholette. "If I'm going to buy a new product the first thing I do is check out the reviews on Amazon, and so writing reviews is my way of returning the favor," she said. "I guess it's the same reason I became a psychologist -- to help people."