Twitter Update Might Actually Get You to Use Twitter.com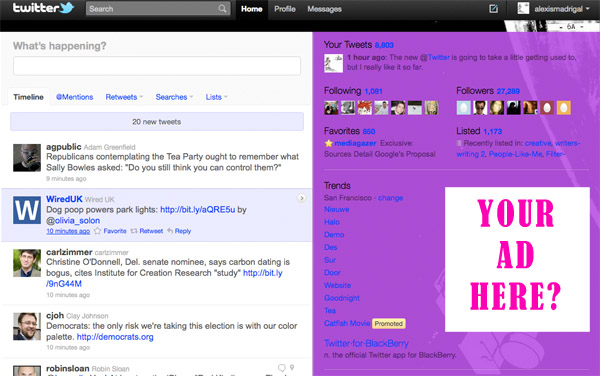 Turns out Twitter is a website after all.
Since shortly after its launch, Twitter had seemed more like a web service. Many users, though certainly not all of them, rarely or never went to Twitter.com, using the service through third-party applications like Tweetdeck and Thwirl on their phones and computers.
But over the last year, the company has been trying to stuff the cats (i.e. users) back into its bag. First, they launched new retweet functionality that worked best on the website. Now, they've revamped Twitter.com in the largest update to the user-facing side of the site in years. In general, the changes help improve the experience, but as Peter Kafka (and others) immediately realized, the revision is likely to change Twitter's business as much as its usage.
Twitter wants to keep you on Twitter.com and the redesign seems shaped around that goal.
For you, the big change is that you can view video and pictures right on the site now. Click on the arrow to the right of a Tweet and the photo or video shows up. The same arrow allows you to find out more about the Tweeter, other people mentioned, and hashtags used. It's an elegant solution to the problem of keeping the site's feel familiar while providing new functionality.
But perhaps the most noticeable thing about the new redesign -- as pointed out by the Times' Jenna Wortham -- is all the blank space in the right toolbar. That looks to me like a great spot for some ads.