The Pros and Cons of Google Instant
Google's search engine is getting a major makeover today. Mountain View's finest debuted Google Instant today, which returns results for you as you type.
Now, let's be clear: the search engine itself didn't change much today. Pages will be ranked exactly where they were before. But the user experience just changed considerably, as Google executives and engineers emphasized in a San Francisco press conference.
Predictably, they trumpeted the benefits of the service. With Google Instant, they say users save an average of two to five seconds per search. Multiplied by the billions of searches that Google users execute each day, the societal time savings add up.
I also love one feature. As you're searching, Google is auto-completing other searches for you. Hit your down arrow and you see those results. So, let's see you start off searching for "The End of Men," but you realize you'd rather search for "The End of World," when Google shows it to you. This happens: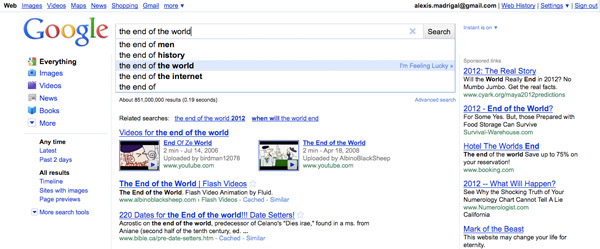 There are two pretty glaring downsides to Google Instant, though. First, it is a visually intense experience, possibly even an overwhelming one.Tech journalist John Pavlus described it as "like having a websearch seizure. [The] screen explodes with noise as you type."
Second -- and this is more subtle -- I worry that Google is driving more traffic to the most statistically probable searches. The most-trafficked ways of searching for something will get more trafficked. I wouldn't be surprised to see the number of unique searches drop because people see something in the list that makes sense, even if it's not exactly how they'd have put it.
This may only be a slight narrowing of our collective imagination, but it's worth noting because it's another way in which algorithmic suggestions or restrictions shape our behavior,  even (or especially) when they are soft and/or useful.
Former Googler Kevin Marks made an apropos point on his personal blog last night, "I do wonder about
Eric Schmidt's grand vision
of Google predicting what we will want to do before we think of it ourselves,"
Marks wrote
. "Will it in fact be what we wanted, or will it be a mishmash of expected behaviours, that we'll
regret on our deathbeds
?"