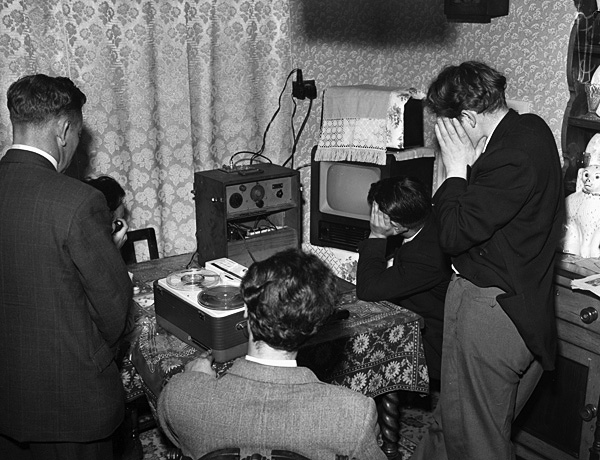 "Sometime in the middle of 1938, television sets may be put on a sale in the United States," wrote Gilbert Seldes, writer, critic and first director of CBS News in the May 1937 issue of The Atlantic. This dispatch from The Land Before Television is fascinating and weirder than you might think.
Because what he ends up discussing, largely, is radio. Radio wasn't just a conceptual model for Seldes. The same broadcasting companies that owned those airwaves were the ones pushing television, too. There were direct institutional links between the radio and television, and he wasn't wrong to think that many models (for business, for formats) would be imported directly from the audio to the visual world.
The best snippet, I think is when Seldes looks back at all the changes sociologists Malcolm M. Willey and Stuart A. Rice argued radio had wrought. For example, I bet you didn't know that the radio increased book sales or that "hundreds of millions of people were auditors at the drama of the abdication of King Edward VIII." But Seldes doesn't just regurgitate the academic facts. He complicates their determinism and provides a little Nicholas Carr-like gloss to their cheery description about the wonders of radio communication. Enjoy.
In a study made by Malcolm M. Willey and Stuart A. Rice, over one hundred and fifty separate effects of the radio were listed, and under many of these general headings ten or more in detailed items appeared. Because of radio, more of us took setting-up exercises in the morning, with possible improvement in our health; old songs were revived, as new ones quickly exhausted their popularity. Those who could not read found a new interest; oratory was restored to its ancient glory in Presidential campaigns; the difference between the city and the country was made less, vaudeville artists got jobs, book sales increased; farmers knew the price paid for stock and grain in Chicago and Minneapolis; newspapers for the first time had rival in both of their important functions, giving news and advertising goods. Radio has been used for directing traffic during holiday jams when motorists were warned of points of congestion and advised to detour; millions of people, totally indifferent to social movements and international affairs and totally unhabituated to reading about such things, have become aware of them through news broadcasts and commentary; hundreds of millions of people were auditors at the drama of the abdication of King Edward VIII.

So radio touches our lives at every point. It is desirable for us to know what price we have paid for the creation of this incomparable engine of social influence: we have certainly created a habit of almost indiscriminate, almost apathetic listening; through the air has come a really incalculable number of stupidities; much that is trite and tasteless comes with what is intelligent and bright. A critic of society would have a delicate job to determine how far radio has corrupted and how far improved the public taste, and the very existence of a power so great as that of radio seems menacing to many observers. The highminded do not like to ace the actual situation in radio, which is that all of its desirable effects are based on the habit of listening which as created largely by programmes triviaI and banal in themselves. In countries with highly centralized authority it is possible that people listen to the radio because what they hear is important; and the extreme form is obligatory listening as it is practised in Germany. In a democratic country the emphasis is on the other side: radio is important because people listen to it, even when it is trivial; the audience which listened to the radio debate on the Supreme Court was created in the first place by Ed Wynn, Rudy Vallee, Amos 'n' Andy, and Kate Smith.
Read the rest of Seldes' "Television and Radio."
Revisit more pieces from The Atlantic's archives with the Technology Channel.
Image: National Library of Wales.