Russians Building Floating Nuclear Plants to Aid Arctic Drilling
The BBC has a fascinating story about the construction of floating nuclear power plants for the Russian arctic. Built on a dock, the ships could motor up to the Arctic and stay there for more than a decade providing light, heat and power. Russia has moved aggressively to secure possession of areas of the Arctic with good potential for oil and gas drilling.
It's worth noting that floating nuclear power plants were suggested in the United States during the mid-1970s. The response then, according to this AP report, was roughly equivalent to most people's response now.
"The very idea of putting a nuclear power plant on a huge barge, floating it off three miles off a crowded resort beach and piping its power ashore at 345,000 volts through underwater cables made some people nervous," the AP wrote. "To others, it's the greatest idea since ... well, since the nuclear power plant."
The U.S. plant would have been located off the jersey shore near Atlantic City, as seen in this drawing from the January 23, 1977, edition of the Sarasota Herald.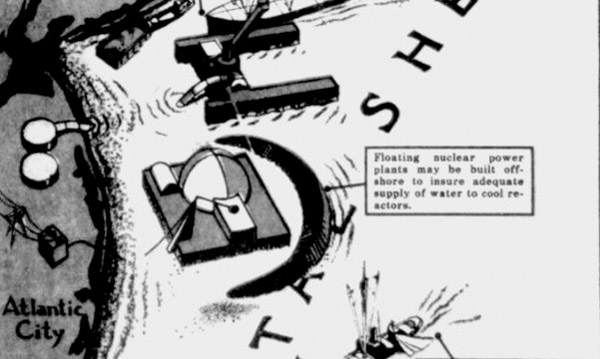 The floating plant plan died in late 1978 when the New Jersey utility pushing the reactors canceled its order with Westinghouse.
The idea of offshore nuclear reactors went dormant for 25 years, when Russian authorities picked up the idea for use in the Arctic.
Here are the details on the new Russian plan:
"These [floating nuclear power stations] have very good potential, creating the conditions for exploring the Arctic shelf and setting up drilling platforms to extract oil and gas," says Sergey Zavyalov, deputy director of the operating company, Rosenergoatom. "Work in the Arctic is very complicated and dangerous and we should ensure there's a reliable energy supply."

He says each power station, costing $400m, can supply electricity and heating for communities of up to 45,000 people and can stay on location for 12 years before needing to be serviced back in St Petersburg. And while initially they will be positioned next to Arctic bases along the North coast, there are plans for floating nuclear power stations to be taken out to sea near large gas rigs.
Read the full story at the BBC.