Online Scammers' Secret Weapon: Comic Sans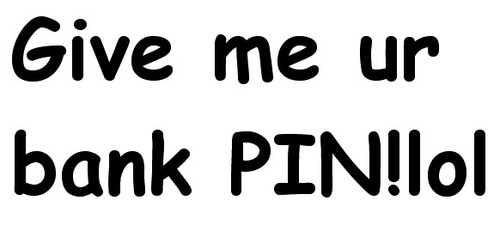 Comic Sans is basically shorthand for stupid, in design terms. And no one in their right mind would divulge anything sensitive to a site that used it, right?
Sadly, that may not be true. According to a forthcoming study in the Journal of Consumer Research, "an unprofessional-looking interface" may make users more likely to part with sensitive data than a more polished design.
Researchers set up two survey websites, each asking participants a series of questions about their willingness to engage in certain kinds of embarrassing or unethical behavior (i.e. information they'd prefer to keep private). One site had a clean, official look with a Carnegie Mellon logo prominently displayed; the other addressed users with LOLspeak questions set in...Comic Sans.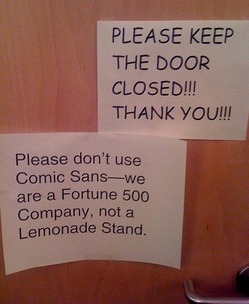 Shockingly, users of the Comic Sans-addled site were almost twice as likely to admit embarrassing or unethical behavior -- even after taking a "pre-test" where they were shown both sites and asked which one seemed more trustworthy!
Suddenly, the person who posted this note  on the door seems less like a pedantic jerk and more like a smart cookie looking out for company security.
Granted, the study is just an early stab at gauging how "bad" design cues affect our judgment. And admitting on a survey that you once ate a donut out of a trash can is much different than thoughtlessly sharing your Social Security number online.
But the study implies something even more insidiously awful about Comic Sans than everything we already thought: Its stupidity may be contagious.
[via Ars Technica]