Meet the Fe26 Maidens, the All-Girl Robotics Team from the Bronx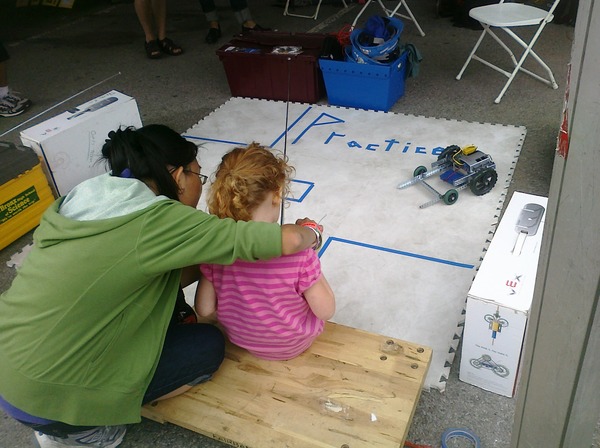 Editor's Note: Young adult novelist Sara Ryan attended Maker Faire in New York looking for kids doing fascinating things with technology. As we've noted before, we believe the maker ethic has a shot at overhauling education. And this team of young women is one reason why.
The World Maker Faire took place in and around the New York Hall of Science this past weekend. Sponsored by Make magazine, the event was created to unite "engineers, artists, crafters, tinkerers and scientists." Depending on where you look, Maker Faire takes on qualities of carnival, craft skillshare, indie arts fest and science fair. It's a massive collaborative venture, one that's overwhelming to contemplate.
So I head straight for the Young Makers pavilion, operating with the theory that if the Faire ends up having the staying power to outlast the current DIY trend, it will be because today's kids and teens embrace its tech-positive, tinkering-friendly spirit. Almost immediately, I find high school sophomore Amy Lai, helping a little girl practice driving. They're controlling a four-wheeled vehicle that I later learn is called a VEX bot, built using a kit from VEX Robotics.
There are two VEX bots on a square mat. Sometimes the bots run into corners, or each other, and there's a steady stream of kids eager to take the controls. My conversation with Amy is regularly interrupted as she repositions the bots and gently encourages the kids to share. Amy is a member of the Fe26 Maidens, an all-girl robotics team from the Bronx High School of Science. (If you use the word Iron, it's copyrighted by the band; thus the team's clever periodic table-based name.) She got interested in joining after attending a school fair that featured robotics projects. "I just thought it was really amazing," she recalls. "I wanted to learn to build them."
The Fe26 Maidens designed these particular VEX bots as part of a getting-to-know-each-other project. Team member Vicky Chen likes the bots' relatively small scale. "The controllers are more kid-friendly and they're easier to transport, so we can take them to hospitals and libraries when we do outreach," she says.
Outreach? Absolutely. Fe26 Maidens is one of hundreds of teams that compete in the FIRST Robotics Challenge. Spreading the science-and-robots-are-awesome gospel is part of the deal. Last year they helped a rookie team get started by throwing a tool drive. "I think when they started they had, like, one drill and a couple screwdrivers," says team captain Leena Chan.
This collaborative spirit -- which Amy, Vicky and Leena all describe with the phrase "gracious professionalism" -- is a priority for FIRST. The phrase is trademarked and defined as part of their mission.
Gracious Professionalism (TM) would seem to imply that an all-girl team like Fe26 Maidens wouldn't face anti-girl prejudice when they compete. When pressed, Leena admits, "There are always one or two jokes. I needed to borrow a jigsaw and a guy asked, 'Wait, are girls gonna use it?' But we prove ourselves. Last year we beat our brother team at the New York regionals. That was cool."
Proving themselves involves a significant time commitment. Each team has six weeks to complete a challenge. During that time, team members work every day, including weekends and holidays. Adult mentors help with technical aspects of the project and also with logistics, such as getting the necessary permits for team members to stay late in the school building. And the Fe26 Maidens I spoke to all have long commutes to school, between one and two hours each way. Their parents need to accept that, during challenge season, they'll be riding the subway home at nine or ten at night -- an education in itself, I couldn't help commenting.
But it's so worth it, they assure me: learning how to design something, how to complete a task. "How to execute," Leena says with enthusiasm. Team members form strong friendships that extend beyond robotics to other pursuits including, Amy tells me, karaoke. And they're well aware of how the experience will serve them in the future. As Leena points out, "When you get a real job, no one works alone."