Fifteen-Year-Old Cleans Up With iTunes Instant Search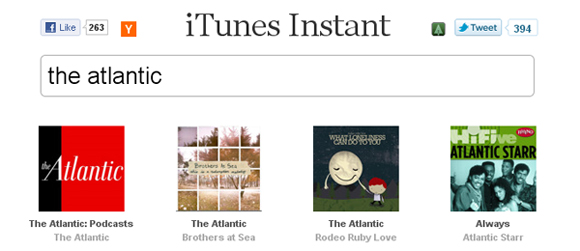 After Google debuted instant searching last week, amateur developers were quick to capitalize on the accompanying buzz. New launches inspired by the search giant have brought fame to a handful of spin-offs, but a new one that branches outside of Google's massive empire might also bring fame's elusive cousin, fortune. That was never the goal, though; iTunes Instant creator Stephen Ou just wanted to push Apple to return to its roots.
Apple, Ou thinks, could learn from his product. In a manifesto, Ou argues that Apple, long celebrated for its clean and simple user interfaces, isn't simple enough anymore. "When you are performing a search, there are too content displaying upfront," the creator with a slippery grasp on English writes -- adorably -- on his Tumblr. "You will be definitely overwhelmed once search results are being shown."
To clean and speed up the search process, Ou built a website that returns a dozen rotating results to visitors as they search for a song or album. One click on the link will bring you straight to the iTunes store. And, because his program is set up to provide links through Apple's affiliate program, Ou will receive a five percent kickback on any purchases.
As of this writing, Ou has not been entered into the people-powered encyclopedia, but his work is getting a bit of recognition. On his Twitter feed, stephenou, the young developer announced that he had been contacted by Apple earlier today. But we won't know what about until school lets out at 4 p.m. PST.