The Two Really Useful Features Twitter Added Without Telling Anyone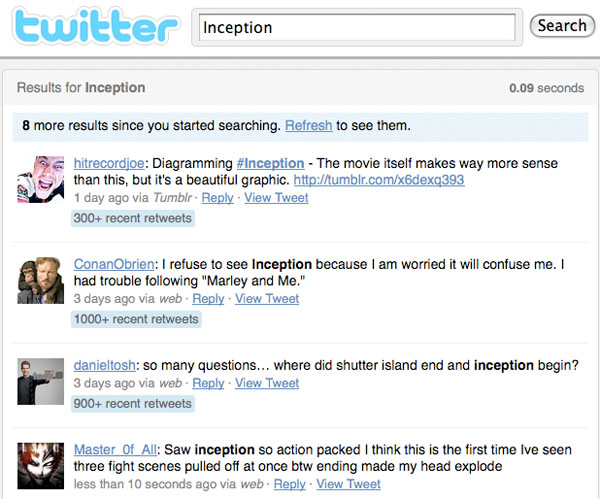 Twitter became substantially more useful over the past couple of months, courtesy of two small changes to the way the service's real-time search works. Neither tweak was announced, which is a shame because they might be the best things the service has done since it gained traction a few years ago.
First, now, when you search for something like "Inception" or "Elena Kagan," the top three search results are calculated by the number of retweets that comment has received. Functionally, this means that the funniest, most relevant, or interesting tweets get surfaced. (See above.) Before, the real time search function used to bring up just the most recent tweets, which were often random or boring.
Second, because of the character limitations on Twitter, nearly everyone uses URL shorteners to post links. Some time in May, Twitter started peeking into those links. What that means is if you search "theatlantic.com," anybody linking to this site will appear, even if they use a URL shortener. For media websites, that's an incredibly useful bit of functionality because we can capture a larger percentage of the discussion around our posts. (See below.)
Though both changes were rolled out weeks ago, you may not have noticed them if you mostly use Twitter through a client like Tweetdeck and don't find yourself at Twitter.com very often. Perhaps, after years of playing catch up with user growth, Twitter's engineers are finally getting around to implementing useful and new features. (Or so we can hope -- when I went to tweet this story, I (of course!) got a fail whale.)