The Tiniest Frog in the Old World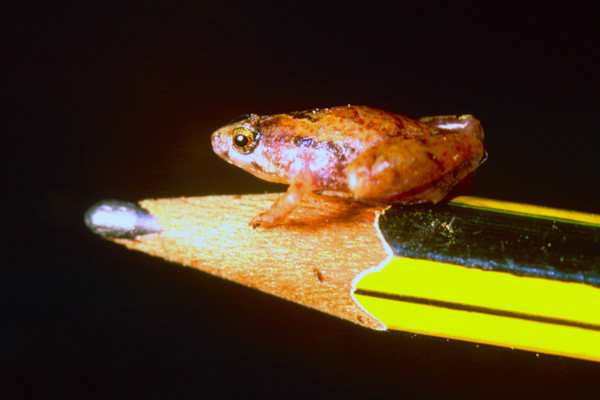 I used to love walking through the grass at my aunts' houses in Gloucester during the summertime. Spring peepers, tiny frogs just an inch long, would go hopping through the blades as I wandered around. Now those were small, but get a load of this micro-frog, Microhyla nepenthicola, which was just discovered in Borneo. It measures a bit over 0.4 inches! It lives in pitcher plants, and the scientists who discovered say it's the smallest frog found in the old world. The smallest frog in the world appears to be this little guy native to Cuba.

"I saw some specimens in museum collections that are over 100 years old. Scientists presumably thought they were juveniles of other species, but it turns out they are adults of this newly-discovered micro species," said [Dr. Indraneil Das of the Institute of Biodiversity and Environmental Conservation at the Universiti Malaysia Sarawak].

The mini frogs (Microhyla nepenthicola) were found on the edge of a road leading to the summit of the Gunung Serapi mountain, which lies within Kubah National Park. The new species was named after the plant on which it depends to live, the Nepenthes ampullaria, one of many species of pitcher plants in Borneo, which has a globular pitcher and grows in damp, shady forests. The frogs deposit their eggs on the sides of the pitcher, and tadpoles grow in the liquid accumulated inside the plant. Adult males of the new species range between 10.6 and 12.8 mm - about the size of a pea.
Read the full story at Conservation.Org.