Over Last 6 Months, Android Smartphone Sales Soar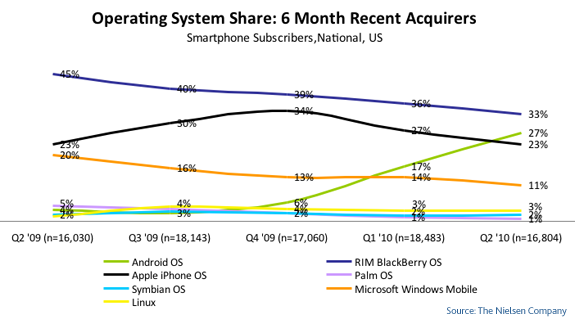 Android smartphones may not have the slick polish or fanatical following of the iPhone, but they've made massive strides in catching up with the category-leading Apple product. Nielsen reports that Android phones pushed past the iPhone in smartphone sales over the last six months.
Sales of Google Android phones in the U.S. are rising so quickly, the devices have outsold Apple handsets for the first time on record. New smartphone subscribers choosing Google phones accounted for 27 percent of U.S. smartphone sales, the Nielsen Company will announce this morning, nudging past the 23 percent share held by Apple. But Android isn't just a U.S. phenomenon: Canalys today estimates that Android handset sales grew 886 percent worldwide from the year ago quarter.
Read the full story at GigaOm.